These candy color rainbow nails are perfect for pride
ABC News Photo Illustration, Julie Kandalec
Pride Month is in full effect and it's a great time to show your spirit with a little fun rainbow nail art.
Whether you are a beginner or you consider yourself a pro, there's always room to learn how to achieve cool new designs. That's why "GMA" tapped NYC-based celebrity manicurist Julie Kandalec to break down how to get a fresh mani you will end up wearing all summer long.
This minimalist meets maximalist look is goof-proof and doesn't require a ton of unfamiliar tools to get.
"I wanted to use my favorite candy colors to create an easy, almost Ombré rainbow mani that uses only one tool -- a liner brush," Kandalec told "GMA."
Ahead, check out her step-by-step advice for nailing the look.
Tools/products needed:
- Base coat and top coat nail polish
- Liner brush -- Kandalec's pick: Kafka liner in size 5/0
- Angled eyeliner brush
- Pure acetone
- 6-10 polishes in the range or theme (i.e. all bold primary and secondary colors or all pastels, or all glitters)
- A sketchbook to help lay out your design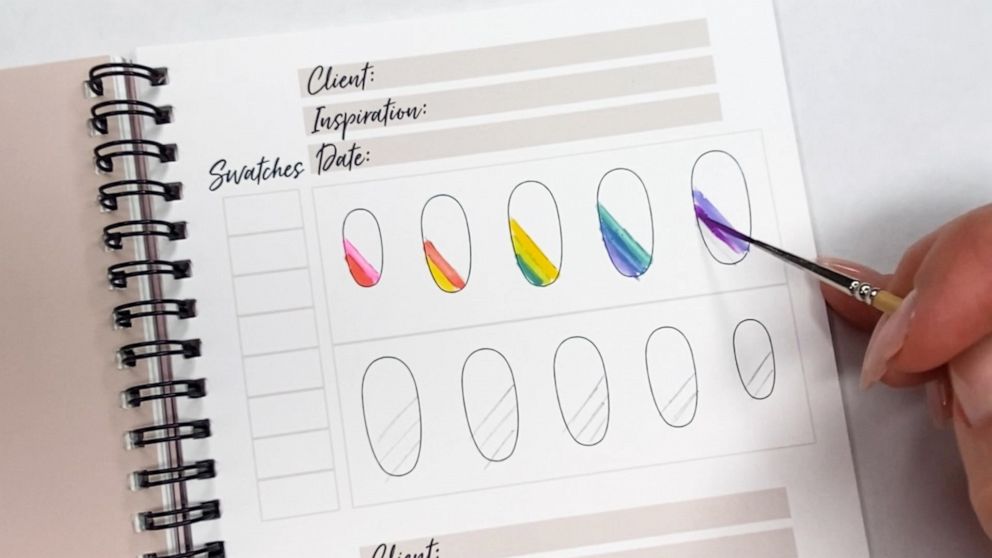 Recommended polishes/colors for Pride design:
Pink - Morgan Taylor in Tickle my Keys
Orange - Jin Soon in Koi
Yellow - Lights Lacquer in Slice of Life
Green - China Glaze in It's all Techno
Aqua - China Glaze in Can't Stop
Light blue - Morgan Taylor in Blue-Eyed Beauty
Light purple - Olive & June in Bold & Unshaken
Bright purple - China Glaze in Funky Beat
Get the look:
Step 1: Start by laying out your design on paper to help with spacing and color placement.
Step 2: Prep and manicure nails
Step 3: Unscrew all the caps for faster access to polishes.
Step 4: Starting with your pinky finger, dip your brush in the bottle you are starting with and wipe off half to prevent pooling. Press half of the body of the brush onto the nail and pull toward the tip.
PRO TIP: Pressing gives you a wider stripe.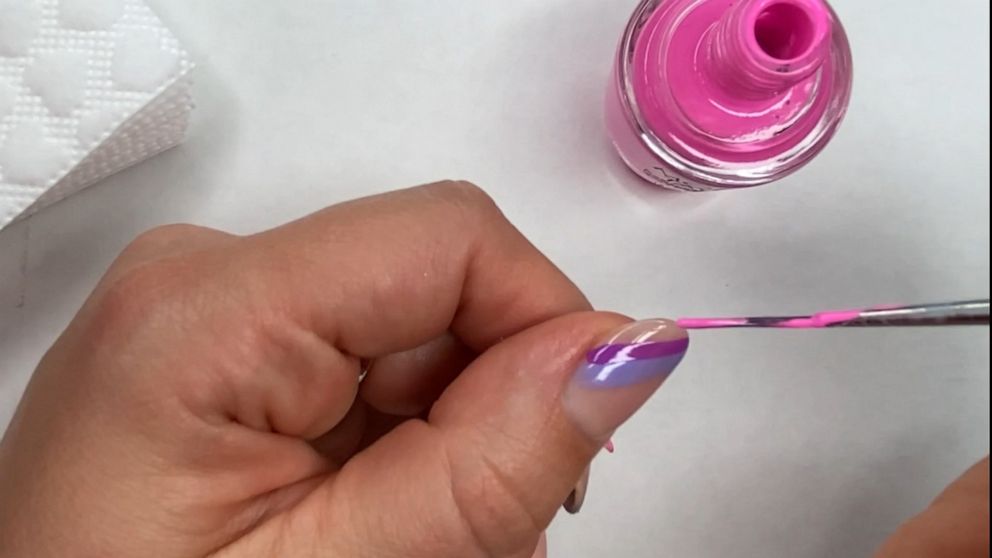 Step 5: Draw two or three stripes per nail. For this specific look, use two each on the pinky and ring fingers and three each on the rest. Repeat this process with the other colors on all of your nails.
PRO TIP: To go faster, alternate which stripes you apply to give each time to dry in between. "This is the benefit of sketching out your design and colors first," advises Kandalec.
For example, apply in this order: pink, yellow, aqua, purple, orange, lime, blue.
Step 6: Allow all colors time to dry well, and follow with a top coat on each nail. Kandalec recommends using Seche Vite's top coat for nail art designs.
Final Look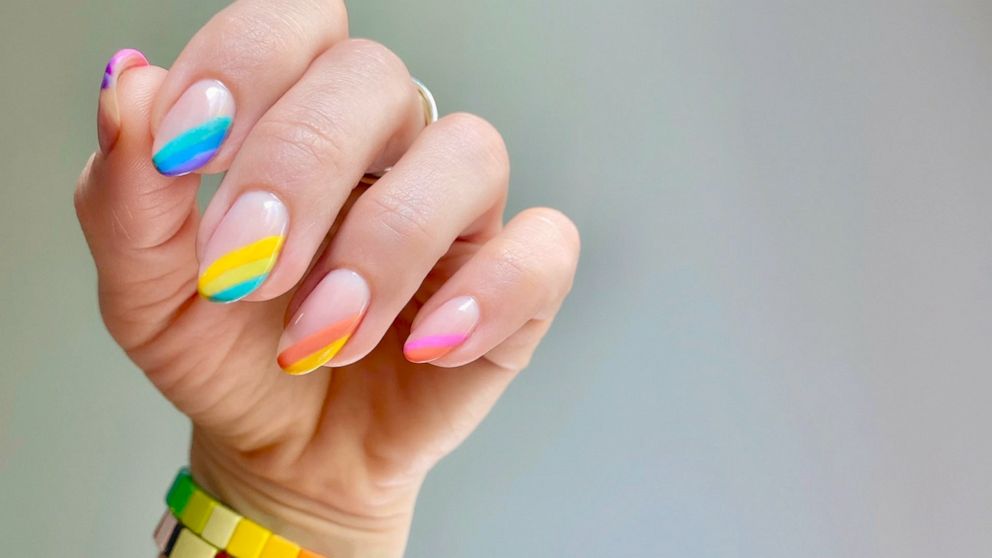 Ta-daaa!
Editor's Note: This story originally published on June 12, 2020.