New Princess Diana documentary includes never-before-heard audio
Alexi Rosenfeld/Getty Images
Few items can tell the story of Princess Diana like her iconic black sheep sweater, sold by Sotheby's on Thursday for $1,143,000, after two weeks of online bidding -- a world record for a jumper at auction and for any item of clothing worn by the late Princess of Wales.
The sweater fetched a total of 44 bids, ultimately driving the final price over 14 times its initial $80,000 high estimate. A 15-minute bidding battle near closing drove the sale from $190,000 to its final price of just over $1.1 million.
A piece of cultural significance, the sweater headlined the Fashion Icons collection, Sotheby's inaugural online auction that opened Aug. 31.
The sale featured a curated selection of 10 iconic fashion pieces from influential figures and designers, including an evening gown worn by Diana in 1985; Sarah Jessica Parker's vintage bridal headpiece from the first "Sex and the City" movie, which was also featured in the Max show "And Just Like That..."; two dresses belonging to former first lady Michelle Obama and Kate Winslet; a vintage lace wedding veil worn by Madonna on the first Icon Issue of Vanity Fair; and four Hermès bags of high value.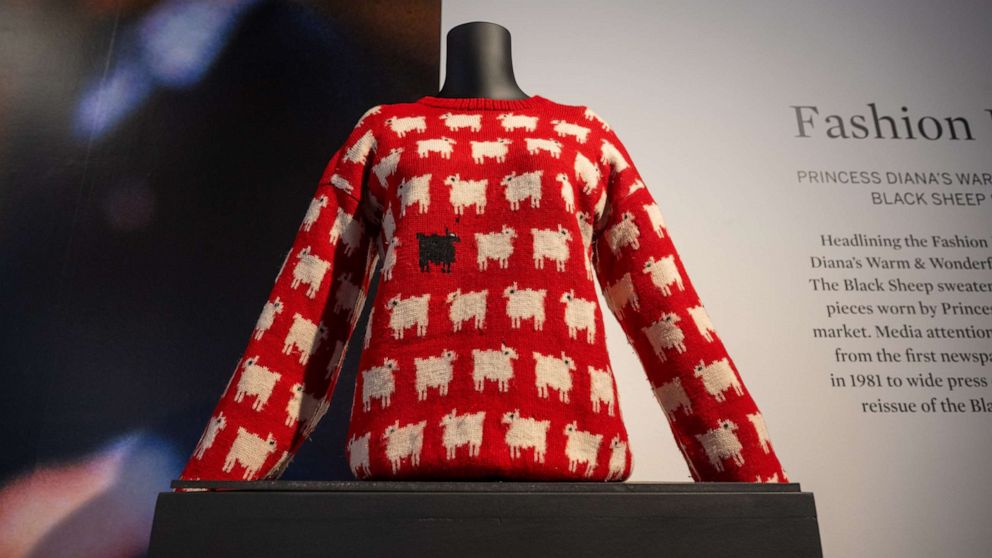 It was Diana's black sheep sweater, however, that attracted most of the bids and attention. "This exceptional garment, meticulously preserved, carries the whispers of Princess Diana's grace, charm, and her keen eye for fashion," Cynthia Houlton, Sotheby's global head of fashion and accessories, said in a statement. "It's an honor to offer this historic sweater in our inaugural Fashion Icons auction, placing it in dialogue with other memorable and culturally important items of clothing."
Much of the fascination over the sweater comes from the symbolism attributed to the design, with Diana reportedly feeling like an outsider in the British royal family from the early stages of her union with then-Prince Charles (now King Charles III).
For others, the significance of the sheep motif is linked to the British countryside as well as the innocence, gentleness and purity of animal that the young British princess embodied in her role as mother and philanthropist.
Diana first wore the sweater publicly at a polo match in June 1981, a month before her wedding to Charles. Dotted with a white sheep pattern all over, and famously featuring a single black sheep, the sweater by Warm & Wonderful appeared in newspapers at the time and became an instant sensation.
"Much to our amazement, the first we knew of Lady Diana Spencer wearing the sweater was when we saw her on the front page of one of the Sunday newspapers," said Sally Muir and Joanna Osborne, founders of Warm & Wonderful.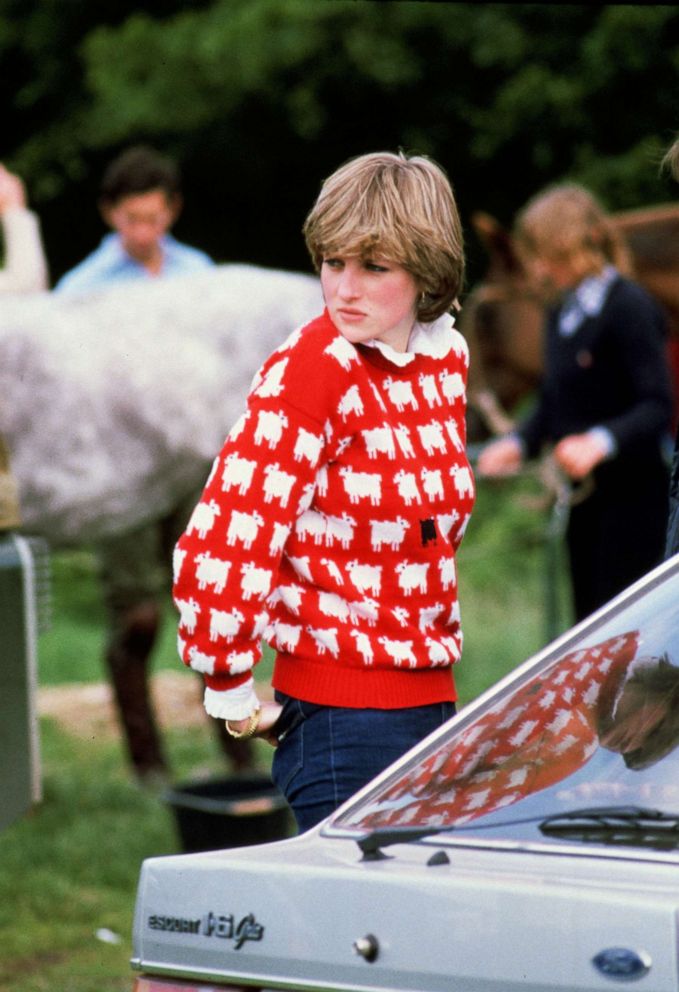 Demand surged and the sweater remained popular over the last 40 years, even after Warm & Wonderful paused production of its black sheep style in 1994.
In 2020, New York-based brand Rowing Blazers reissued the 1979 black sheep sweater originally designed by Muir and Osborne, reviving the style for another generation of fashion and Diana lovers. A replica also made an appearance in Netflix's "The Crown", worn by actress Emma Corrin in the role of Diana.
Together with the item, Sotheby's included in the auction the thank you notes that Diana's private secretary, Oliver Everett, addressed to Warm & Wonderful after they kindly agreed to repair her damaged sheep sweater.
At the time, Warm & Wonderful sent a replacement that Diana wore in 1983 to another polo match, slightly more fitted and this time styled with straight white pants, a wide white collar and a black bow.
Until this year, the owners of Warm & Wonderful said they thought they had repaired the original Diana sweater and sent it to a customer amid huge demand for the style. However, in March 2023, Osborne said she stumbled upon a small box in the attic while looking for an old pattern among 2,000 unfulfilled designs for her business. A vintage-looking model of the sweater was folded inside.
Muir and Osborne said that with Sotheby's help, the piece was eventually authenticated as Diana's original sweater, and the garment was put up for auction.
"Since stumbling upon the sweater in March of this year, we have been reliving the fond memories of Princess Diana appearing on the front pages of every newspaper in 1981, wearing our very own sweater," the Warm & Wonderful co-founders shared on Thursday after the sale. "While we are forever indebted to her for the impact this had on our business, our deepest appreciation lies in the knowledge that she shared a unique connection to the black sheep design. We are thrilled that this cherished sweater has now found a new home, carrying with it the enduring legacy of Princess Diana."