Bobbi Brown's tips on going gray: 'Embrace your inner sparkle'
As seen on everyone from celebrities such as Sarah Jessica Parker to Meryl Streep, more and more people are deciding to ditch the hair dye and let their natural gray hair shine through.
While embracing your natural hair color can feel exhilarating, it can also be equally as exciting to switch up your makeup routine to compliment your new silver strands.
To guide you through this transition, "Good Morning America" called on none other than makeup maven Bobbi Brown to share her best tips and tricks for adjusting your glam and glowing gray.
Just below, the Jones Road Beauty founder breaks down everything from the best colors for eyes, lips and cheeks to her take on going for glitter and how to add a dash of sparkle to your look.
By clicking on these shopping links, visitors will leave Goodmorningamerica.com. These e-commerce sites are operated under different terms and privacy policies than Goodmorningamerica.com. ABC will receive a commission for purchases made through these links. Prices may change from the date of publication.
Well-hydrated skin is in
Brown highlighted the importance of taking care of your skin from within, and how it's the most important step before any makeup routine.
"Keeping your skin well-hydrated and drinking lots of water is the first, and most important step," she told "GMA." "But, it's especially important as we get older."
"Our skin is dryer; it loses elasticity, and if we're not exfoliating, it starts to look dull as we age," Brown added.
Before putting makeup on, her advice is to begin and end every day with moisturizer and eye cream.
"Put it on as the first step in your makeup routine and reapply it before you go to bed," said Brown. "Also, use a good exfoliator once a week to remove any dead skin and let the natural radiance of your skin shine through."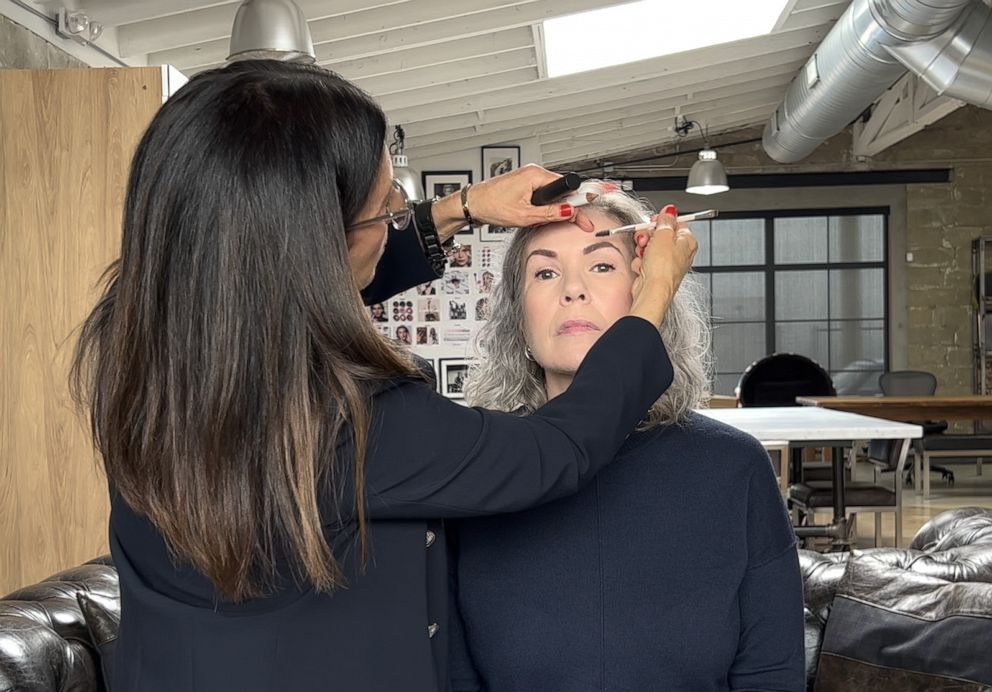 Brow hack for gray hair
Brown pointed out a challenge is that you do tend to look washed out when you have lighter hair, but one of her big tips is to have a brown eyeshadow to fill in sparse areas around your hairline, parts and also your eyebrows. "When our hair goes gray, the eyebrows don't always follow suit," Brown told "GMA."
Her advice is to use a spoolie brush to comb through your brows, and keep them groomed. Then, follow with an eyebrow pencil that closely matches the color of your brows. From there, use the pencil to fill in the brows with short, gentle strokes and follow the natural shape of the brow versus drawing brows on.
What colors to wear without looking washed out
While neutral colors may have worked well for you in the past, Brown advises that with gray hair, nude tones will leave you looking washed out. "You need pops of color, there's no question," she said. Instead, she encourages hues that fall within the rosy pink family.
"Pink is my favorite color because it truly works on everyone, and it adds the perfect pop of color while still looking natural — as if you've just come from a brisk walk outside," said Brown.
Pro tip: If you want to see what shade of pink works best for you, Brown says to pinch your cheeks, and see what color comes up. That's the natural tone you should look for in a blush or lip color.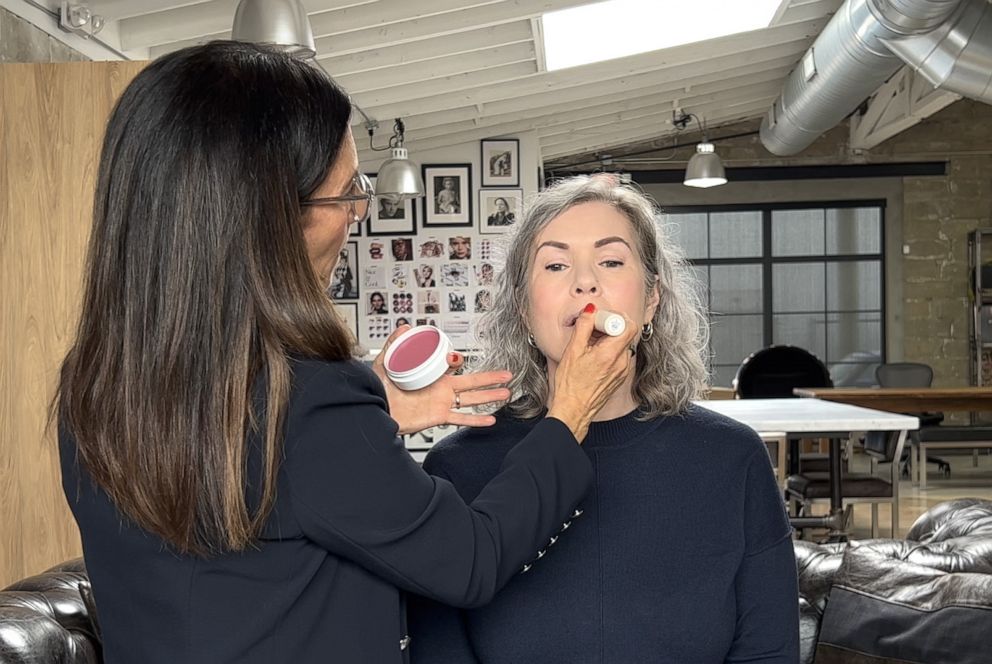 Accentuate the eyes
"Eyeliner is going to make your eyes stand out, and it's really great when you use an eye pencil that works with your color — so for women with blue eyes, there's nothing more beautiful than a navy," said Brown. "Navy is great for women with white hair."
She added that women with medium skin and gray hair do well with dark brown pencils, and women with dark skin should opt for a black eyeliner to really help define the eyes.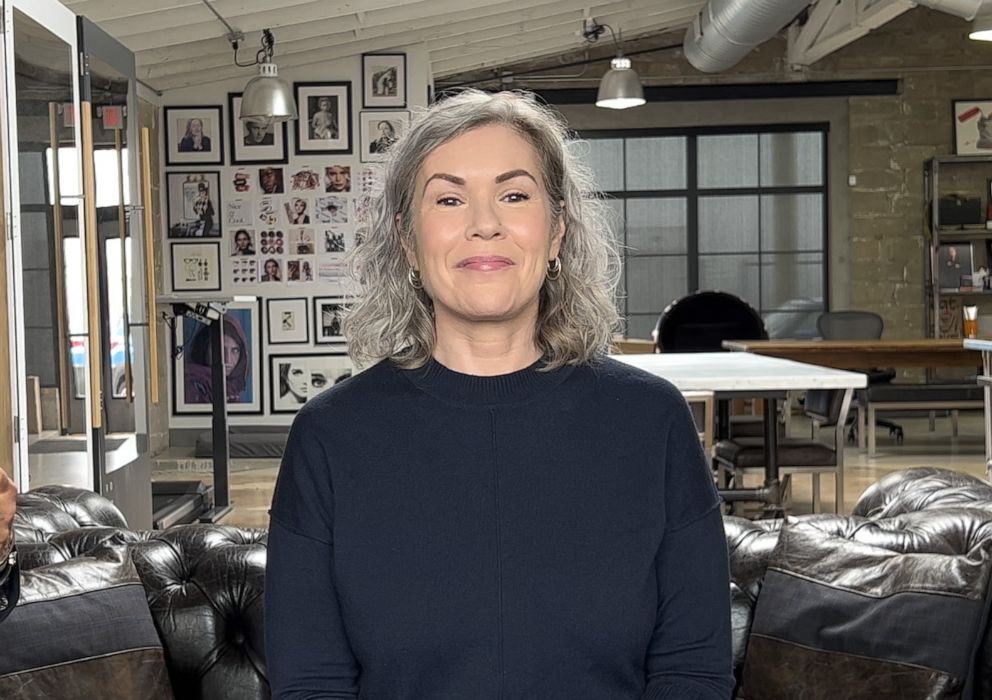 Embrace your inner sparkle
As many women get older, they tend to shy away from anything sparkly on their faces, but Brown believes that adding a little sparkle always makes you look and feel better no matter how old you are.
"My general rule of thumb is to choose two places on your face to add sparkle to, and it will add just the right amount of shimmer to complete any makeup look," she said.
Pro tip: Try an eyeshadow that adds a soft wash of sparkle, dab a little balm on the cheek or finish off your lip with a shimmery gloss.
Editor's note: This was originally published on June 10, 2022.