Amazon holiday shopping kickoff
ABC News Photo Illustration
Tired of looking tired?
Dark circles, puffiness and fine lines are all skin care concerns that generally lead back to the heightened care needed for the delicate skin under the eyes.
While all these common concerns may sound familiar, the endless amount of under-eye treatment products can also feel very familiar yet immensely overwhelming -- especially when you don't know where to start.
"Eye creams are specifically designed for the more delicate, sensitive and thinner skin around the eyes," board-certified dermatologist Dr. Tiffany Libby told "GMA." "You can definitely use facial antiaging creams within the eye area, but you may want to exercise caution if you tend to have more sensitive and easily irritated skin, as eye creams tend to account for this and use smaller doses of the potentially irritating ingredients with special attention to avoid sensitivities."
Libby continued, "You may also want to opt for an eye cream if you have specific eye aesthetic concerns you want to address which may not apply to other areas on your face, like dark circles, hyperpigmentation and puffiness."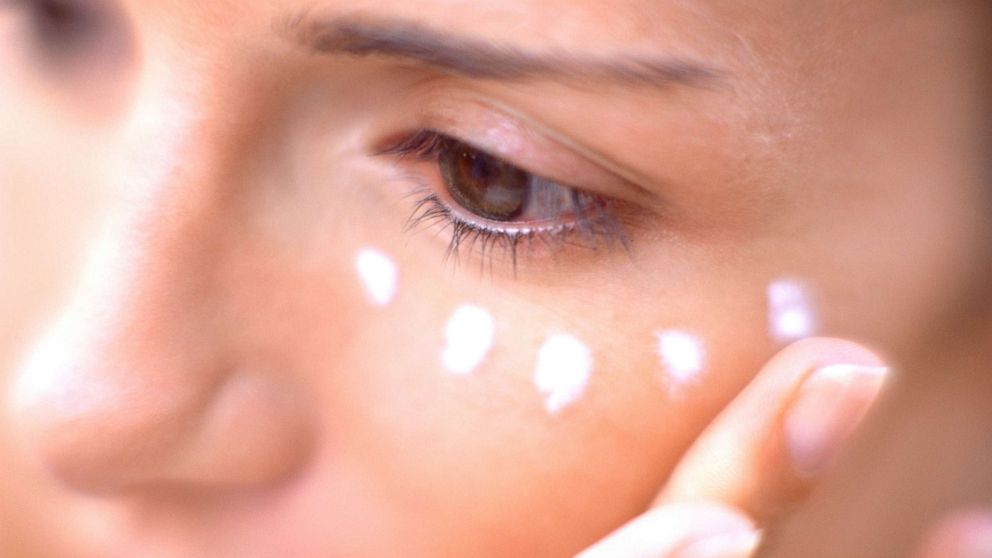 Before you start exploring and experimenting with new eye treatment products, experts agree that you should be cautious if you have sensitive or eczema-prone skin.
"Read the label to understand the suggested frequency of use and what concern(s) may be addressed with product use," board-certified dermatologist Dr. Hope Mitchell told "GMA."
She added, "It is very important that you are gentle in the application of your eye cream, because the skin around the eyes is very thin and delicate."
How to apply eye cream
Mitchell recommends applying a small pea-sized amount of product to both lower eyelids as two to three small dabs each. Using the pinky finger, gently tap the eye cream under the eyes, toward the outer brow and toward the inner eye.
She also suggests a "figure eight" technique where you tap your eye cream into the skin as you cross over the nasal bridge, the opposite upper lid and back along the lower lid of that eye toward the inner eye and nose. Repeat these steps along with the other eye.
"Applying your eye creams either way will help avoid pulling the skin downward and increasing the risk of damaging the delicate skin," Mitchell advised.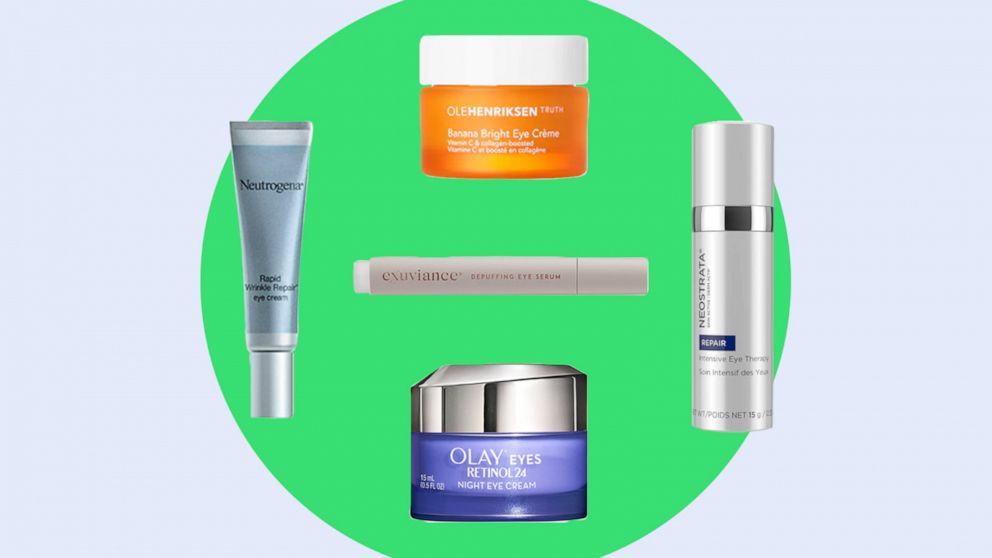 Both Libby and Mitchell also highlighted top ingredients ranging from caffeine and vitamin E to retinol and hyaluronic acid that work to treat everything from brightening and tightening to hydration and anti-aging.
Below, find several expert-approved under-eye creams, gels and more that work overtime to give your gaze a good boost.
By clicking on these shopping links, visitors will leave Goodmorningamerica.com. These e-commerce sites are operated under different terms and privacy policies than Goodmorningamerica.com. ABC will receive a commission for purchases made through these links. Prices may change from the date of publication.
For dark circles
OLEHENRIKSEN Banana Bright+ Vitamin C Eye Crème
This bestselling and highly favored eye cream is packed with powerful brightening ingredients such as vitamin C, which experts say helps neutralize free radical damage, prevent further collagen breakdown, provide antioxidant protection and improve the look of skin discoloration.
LilyAna Naturals Eye Cream for Dark Circles and Puffiness
One of Amazon's best-selling eye creams is this one from LilyAna Naturals that offers deep hydration and brightening thanks to a powerful botanical blend.
For puffiness
Instant FIRMx® Eye Temporary Eye Tightener
This popular eye-smoothing product has made major headlines in the past for its instant ability to firm up the look of the under-eye area. By using just a small amount, eyes appear firmer.
CLINIQUE All About Eyes Serum De-Puffing Eye Massage
Clinique's All About Eyes line has been a cult classic for decades, but the roller included with this cooling, massaging products helps its ingredients work overtime to de-puff your undereye area.
For fine lines and wrinkles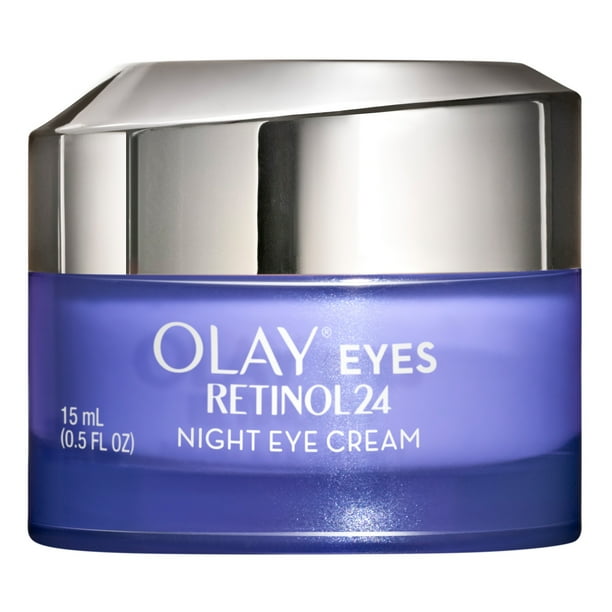 Olay Regenerist Retinol 24 Night Eye Cream, 0.5 fl oz
Mitchell highlights that this drugstore brand contains retinol niacinamide and peptides, which help improve fine lines, dark circles and dull-appearing skin.
The INKEY List Retinol Eye Cream, Reduce Wrinkles and Fine Lines, Support Collagen Production, 0.5 fl oz
Affordable and perfect for nightly use, this retinol-infused moisturizer contains slow-release Vitamin A to boost collagen production.
For dryness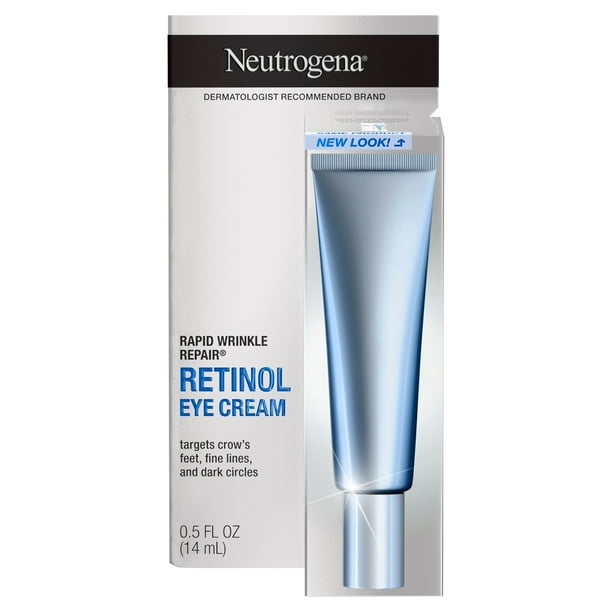 Neutrogena Rapid Wrinkle Repair Retinol Eye Cream, 0.5 fl. oz
Mitchell points out this powerful picks contains one of the top ingredients for adding moisture to the skin: hyaluronic acid. This add-in works to hydrate and plump the skin.
For crow's feet, aging
Correct Intensive Renewal Comprehensive Retinol Eye Cream
"This eye cream is formulated with Neoglucosamine for exfoliation, retinol and hyaluronic acid to help reduce potential retinol irritation which makes this a well-tolerated product," Mitchell advised.
Get more shopGMA! Sign up for our newsletter, and follow on Instagram and TikTok.
Editor's Note: This story was originally published on January 19, 2022.