DACA recipients leaving US, disheartened by legal limbo
Courtesy of Lizbeth Sanchez Olivera
Lizbeth Sanchez Olivera was 3 years old under a blanket when her parents carried her across the U.S.-Mexican border by foot. Sanchez Olivera, now 34, is a Ph.D. candidate in her first year.
Sanchez Olivera is studying for her doctorate in biomedical and translational research at Cedars-Sinai Hospital in Los Angeles. But when she was a toddler, her parents took her and her 8-year-old sister on a journey from Mexico entering the United States as undocumented immigrants, according to Sanchez Olivera. They found their way to Los Angeles' Koreatown neighborhood.
"This was in 1993. The crime rate was at its peak, having, ... cholos (men with gang affiliations, usually of Mexican descent) was huge," Sanchez Olivera told ABC News about her childhood neighborhood. "It just became normal to us. It became like, 'Who died now? Was it a neighbor? Do we know them?'"
Her family of four shared a studio apartment with another family of three, Sanchez Olivera said. Her mother, Gloria Sanchez, and father, Eucario Sanchez, worked as food vendors, scraping by to provide for her and her sister, Maria Sanchez. According to Sanchez Olivera, they slept on mattresses on the floor. She didn't get her first bed until she was 12 years old.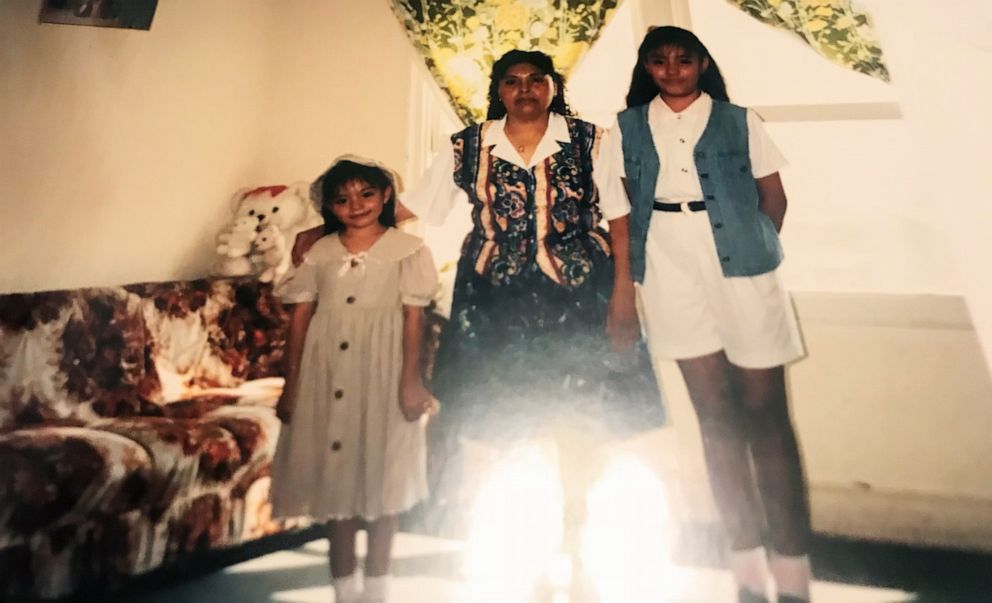 Her interest in science first sparked when she tagged along with her mom during her doctor's visit for her rheumatoid arthritis, according to Sanchez Olivera. The rheumatologist noticed the young girl's interest in the anatomy books the doctor kept in the office. So, the physician would nurture her interest every time she came to the office with her mom, Gloria Sanchez.
"Her motivating me and saying, 'Yes, this is the heart. This is the bones. Look at your mom. This is what your mom has. Feel it. Touch her.' So, that's where it started," Sanchez Olivera said. "I knew that I wanted to be in the healthcare system somehow."
Sanchez Olivera worked diligently in high school and excelled academically. She knew she wanted to be the first one in her family to go to college but didn't know how she was going to pay for it, Sanchez Olivera said. Even though she was accepted into several schools, she was undocumented and didn't qualify for financial aid. Her parents urged her to go a different path from higher education.
"When I told my parents that I wanted to go to college, their first conversation was, 'But Liz, we didn't come to this country to go to school. We came to this country to work. Do what your sister's doing.'"
Her sister worked in customer service for an information technology company. But Sanchez Olivera said she wanted more. She enrolled at California State University, Los Angeles and worked three jobs as a housekeeper, food vendor and carpet cleaner.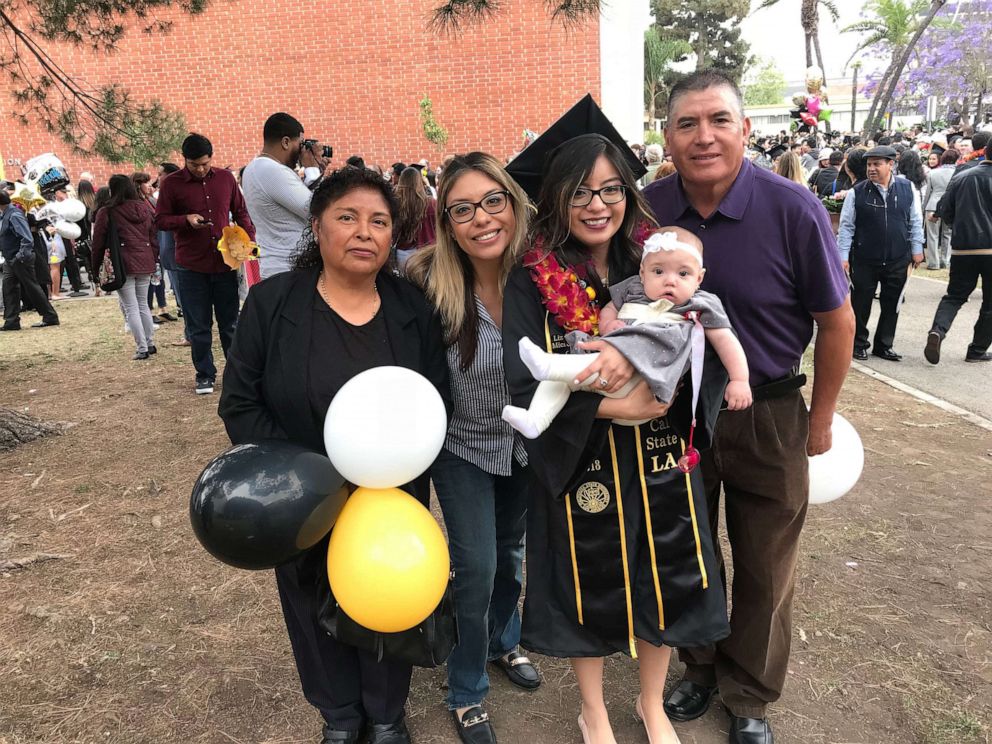 According to Sanchez Olivera, she would wake up at 4:30 a.m. each school day, attend classes in the morning, eat lunch, clean houses or carpets in the afternoon, then come home, eat dinner and study until about 10 p.m. She'd then do it all over again the next day. She worked as a food vendor on the weekends. She used refurbished textbooks, made photocopies of science journals, and relied on PowerPoints for the books she couldn't get her hands on, Sanchez Olivera said.
But she had to take multiple semesters off to work and save up for her education and 2011 was especially hard for her, she said. Her mother's rheumatoid arthritis was getting worse and medical bills were mounting, Sanchez Olivera said. Nearly all of her income was going to her mother's medical bills and rent for their apartment. She took the year off from school and nearly quit her education, altogether. But then, she remembered a lecture by Carnegie Mellon professor Randy Pausch.
"That lecture was about that topic - don't give up. You're going to find walls, but those walls are not meant to keep you out. They're meant for you to tear them down," Sanchez Olivera told ABC News as she held back tears. "If you live your life the right way, the opportunities will come to you. You just have to keep on going because when we think that it's the hardest, you're almost there."
In 2012, the Deferred Action for Childhood Arrivals (DACA) program was enacted in the U.S., protecting eligible undocumented immigrants who were brought to the U.S. as children from deportation and granting them work authorization.
In 2015, she met Dr. Eugenio Cingolani, director of preclinical research and cardiogenetics at Cedars-Sinai Hospital, at a networking event. This chance encounter led her to acquire an internship in Cingolani's laboratory. Something that was now possible because DACA allowed her to be legally authorized for work, Sanchez Olivera said.
"Her story was really compelling to me and her passion, and really wanting to succeed and move forward and learn science and work hard towards it was what captivated me," Cingolani, who is also Latino, of Argentinian descent, told ABC News.
According to Cingolani, Sanchez Olivera eventually gained full-time employment as a technician.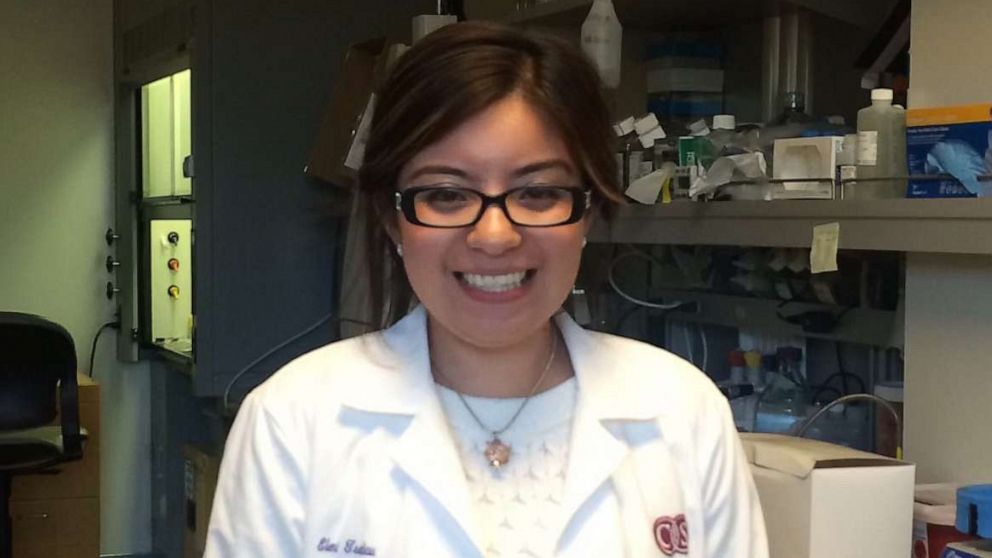 She received her bachelor's degree from Cal State in 2020, after 10 years of tireless work ethic, deferred semesters and perseverance. According to Sanchez Olivera, she became the first technician in Cingolani's lab to be the primary author of a study in a prestigious medical journal, Cell Reports Medicine.
When Sanchez Olivera told her parents that she was going to pursue her Ph.D. at Cedars-Sinai, they responded, "Mija (My daughter), how are you going to pay for this?"
What her mom didn't know was that after 10 years of laboring through undergrad, it would be the first time she didn't have to worry about how she was going to finance her education, since DACA now made it legal for her to qualify for financial aid.
"I said, 'Mom, I don't have to pay for it. I get a stipend,'" Sanchez Olivera said. "It's DACA! I'm going to get paid! And we both cried."