'River Sing Me Home' by Eleanor Shearer is February's 'GMA' Book Club pick
Viking, Pamela Dorman Books, St. Martin's Press, Penguin Random House
Zibby Owens is a regular "GMA" Contributor and host of the award-winning author interview podcast "Moms Don't Have Time to Read Books." Author of "Bookends: A Memoir of Love, Loss, and Literature," Zibby founded Zibby Media, a literary-loving collection of endeavors including a publishing company, author retreats, classes, and more. She is opening her indie bookstore, Zibby's Bookshop, in Santa Monica, California, in mid-February. (Come visit!)
Apparently my Valentine this year is the book industry. (And, you know, my husband!)
The literary world has delivered so many wonderful novels and memoirs for February that it was almost impossible to narrow them down to just 15 reads. But here are the ones that rose to the top of the pile, either for their emotional resonance, beautiful writing, engrossing plots, thought-provoking and inspiring messages, or humor. In a month that can seem gloomy on the outside, these bright, hopeful stories will shine an interior light on the darkest of days.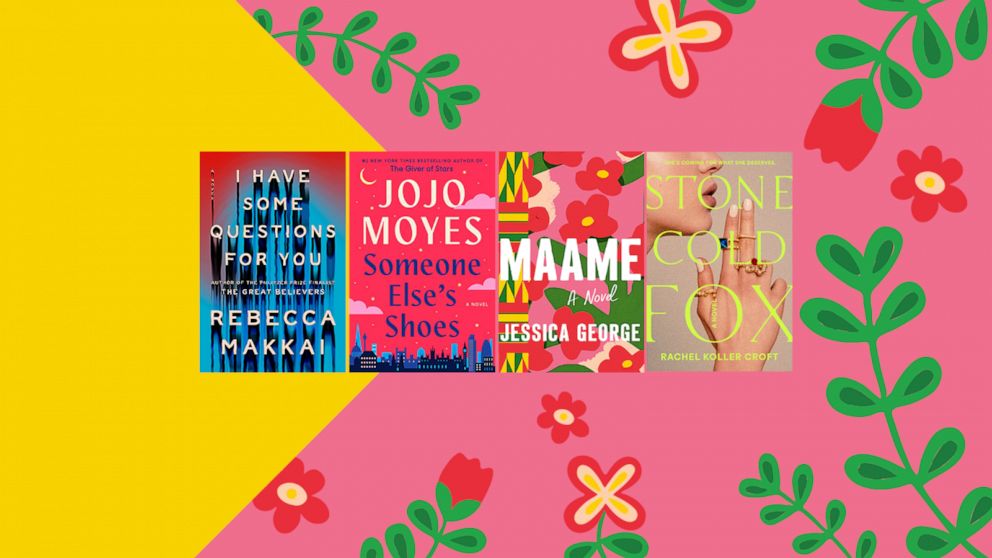 Buy a few for your sweethearts -- and that includes your B.F.F. You'll see why.
"I Have Some Questions For You" by Rebecca Makkai
A finalist for the Pulitzer Prize, Rebecca Makkai has crafted an un-put-downable, captivating boarding school mystery novel with podcasting, teaching, race, divorce, parenting, professional drive, and teen dynamics as undercurrents. When a successful podcaster -- and former scholarship student who was roommates with the popular girl found dead in the school pool -- returns to her idyllic New Hampshire school years later to teach a class, she reexamines the case and uncovers some answers. The writing in this book is absolutely A+ sensational. Pure perfection.
"Stars in an Italian Sky" by Jill Santopolo
New York Times bestselling author Jill Santopolo, who wrote "The Light We Lost" (which was so good), returns with a dual-timeline narrative about a lovesick Italian couple in 1946 from two different classes with divided wartime loyalties and the 2017 couple whose grandparents meet, a moment that changes everything. Fate and true love set against a glorious Italian landscape, especially in the Villa Della Rosa vineyard?! Sign me up.
"Maame" by Jessica George
While Maddie, an editorial assistant at a publishing company, scrambles to take credit for her own ideas at work, she must also face obstacles at home, forced to cope with her unpredictable, manipulative mother who spends half her time in Ghana, her father's losing battle with Parkinson's and her own lost childhood. When she finally gets the chance to live her own life -- pot brownies! Dating! Roommates! -- she ends up missing something critical that leaves her with unfathomable guilt. Maddie's lackluster relationships mix with her frustration at work until she can get everything to finally align. A debut novel with original creative elements thrown in, "Maame" will have any assistant chuckling at their bosses' untenable scheduling demands -- and rooting for the one who cares for everyone else.
"My What If Year: A Memoir" by Alisha Fernandez Miranda
Alisha Fernandez Miranda, an almost-40-year-old Latina Harvard grad, CEO, and mother of twins, should've been totally happy with her life. Everything was… fine. But what if?! Miranda decided, pre-pandemic, to try four internships in areas she'd always wondered about. She started on Broadway and did stints in online fitness, hospitality, and in the art world. Along the way, the pandemic threw a wrench in her travel plans, but that didn't stop her from accomplishing her goal. And then she wrote about it. Hilarious, thought-provoking, refreshing and game-changing, "My What If Year" will leave readers rethinking what matters most -- and not wanting to stop living vicariously through Miranda. What if you tried something you always wondered about?!
"The Critic's Daughter: A Memoir" by Priscilla Gilman
Priscilla Gilman is the daughter not only of renowned literary agent Lynn Nesbit but also of theater critic, writer and Yale School of Drama professor Richard Gilman. In this stirring story, after her parents divorce, Gilman wrestles with her father's sexual identity and tries to extract him from his own depression. Loss, grief, criticism, and love mix and mingle in this moving, literary memoir, one of the best father/daughter memoirs around.
"Don't Think, Dear: On Loving and Leaving Ballet" by Alice Robb
Alice Robb is a recovering ballerina, one of many who twirled their way through the School of American Ballet. Robb examines the aftermath of a childhood in competitive ballet -- and the everlasting impact it had on her and several formal classmates. She dives deep into inner monologues with passages like: "Even though I know that no book reviewer or editor would ever critique my body… I can't fully break out of the ballet mindset. In the morning, I look at my face as if it's a first draft." The most nuanced, introspective glance of a life that ends up completely on point.
"Stone Cold Fox" by Rachel Koller Croft
A debut thriller, "Stone Cold Fox" is (go with me, here) what would've happened if the main character in "Dirty Rotten Scoundrels" had a daughter and kept swindling. Bea's mom has taught her forever how to con men and marry rich, but when Bea grows up, she doesn't want her mom as a sidekick anymore. Now she wants to get what she deserves on her own. Her target, though, a one-percenter blue-blood, has a friend who is onto her. Does she want to be like her mom… or not? This delicious, twisty tale of deception and daughterhood will have everyone holding onto their wallets.
"I Am Still With You: A Reckoning with Silence, Inheritance, and History" by Emmanuel Iduma
Winner of the Windham-Campbell Prize, Emmanuel Iduma returns to Nigeria from his native New York to research what happened to his uncle after the Nigerian Civil War. Through research and interviews, Iduma tries to find closure in his relationship with his uncle in order to really process the death of his own father. Family history, unanswered questions, and identity mix in this memoir and historical flashback to unearth details that are, quite possibly, ultimately unknown.
"Someone Else's Shoes" by Jojo Moyes
No. 1 bestselling author Jojo Moyes, author of "Me Before You" and "The Giver of Stars," returns with a contemporary novel about two totally different women whose lives unexpectedly intersect. Jetsetter Nisha was living the luxury life until her husband unexpectedly cut her off. Sam, who is struggling just to keep her family on solid ground, mistakenly takes Nisha's gym bag and decides to wear Nisha's fancy high heels (Louboutins) to her own work meetings. When the two meet, they end up being able to help each other in this heartwarming, humorous and oh-so-human story.
"Stealing" by Margaret Verble
Finalist for the Pulitzer Prize, Margaret Verble presents a tale about Kit, a Cherokee girl who was taken from her family in the 1950s and sent to a boarding school after her mother's death and after a neighborhood tragedy involving her newfound neighbor and confidant. Forced to withstand sexual abuse, religious indoctrination and other horrific indignities, Kit chronicles her experience as she tries to find a way out in this powerful, moving, coming-of-age novel.
"The Absent Moon: A Memoir of a Short Childhood and a Long Depression" by Luiz Schwarcz
Luiz Schwarcz's talents are well-known in his native Brazil, but now all of us can benefit from his captivating prose and incisive emotional dissection. Schwarcz's grandfather, a Hungarian Jew, defied the Nazis and pushed his son out of a train en route to a German death camp to save his life. That son, as a father, carried the trauma of his own family into his fatherhood of Schwarcz. For Schwarcz, reading and books served as substitutes in the silence at home and gave him a counterbalance to his father's erratic moods -- until his own mental health caught up with him. Slim, small, and searing, this quiet-looking book packs an enormous punch.
"Wanting: Women Writing About Desire" edited by Margot Kahn and Kelly McMasters
This is the gift to give this Valentine's Day. Superb essayists congregate on the pages in this brilliant, vibrant collection of thoughts and confessions. If only this was a dinner party readers could attend to discuss the content with these 33 authors! Essayists include Lisa Taddeo, "Three Women"; Michelle Wildgen, author of the upcoming "Wine People"; Jane Wong, author of the upcoming ,"Meet Me Tonight in Atlantic City"; Susan Shapiro, "The Forgiveness Tour"; Domenica Ruta, "With or Without You"; Karen Russell, "Swamplandia!"; Joanna Rakoff, "My Salinger Year"; Melissa Febos, "Bodywork"; Tara Conklin, author of the upcoming "Community Board"; Elisa Albert, "Human Blues"; and other notables. Co-editor and former bookseller Kelly McMasters has her own memoir coming out in May, "The Leaving Season," which I also couldn't stop reading, especially about her 9/11 experience.
"My Last Innocent Year" by Daisy Alpert Florin
A deftly written campus coming-of-age debut narrative, "My Last Innocent Year" is one of those stories that stays with you. Isabel Rosen is a senior at a Dartmouth-like college in New Hampshire in 1998 where she has always felt out of place. Her mother died four years earlier and her father, a Lower East Side shop owner, barely maintained their working-class status as Isabel mingled with the country's elite. That is, until Isabel takes up with her older writing professor after a non-consensual sexual experience.
"B.F.F.: A Memoir of Friendship Lost and Found" by Christie Tate
Forty-something Christie Tate, the author of the wonderful and moving memoir "Group," a Reese's Book Club pick, has now written a follow-up of sorts, a story about her relationship with Meredith, a woman in her 60s, from their concurrent treatment. Really it's a story about female friendship and the power of those around us to help us understand ourselves. When Tate starts self-harming, scratching her arms endlessly at the arrival of a new member to group, it's Meredith who she confesses the shame of it to as they lament their own life stages and how they're "supposed" to be, until Meredith, in her way, says, "F--- age." A love story, an ode to those who shape our lives, and a close examination of one woman's inner battles in a humorous, approachable way, "B.F.F." is definitely the book to give your own bestie, no matter what age.
"The House of Eve" by Sadeqa Johnson
I couldn't put this one down. Award-winning author of "The Yellow Wife" Sadeqa Johnson writes in an accessible, captivating way about two young Black women, both of whom I became immediately invested in and rooted for like they were old friends. Ruby is 15 and up against all odds -- a mother only 15 years older than her who hands over childrearing to her mother Nene, until Nene's eyes deteriorate and Ruby has to move back in with her unwelcoming (understatement) mother. Ruby is determined to become an eye doctor to help Nene, despite not even having bus fare to her accelerated school program. A neighborhood Jewish boy snatches her attention when she moves in with her aunt, but the community is not happy about that. Then, Eleanor is an ambitious Howard University student, library curatorial assistant, working two jobs to graduate and pining after the sorority that turned her away. She falls for a dashing med student (I want to meet this guy!), whose high society family and friends aren't exactly thrilled about her lackluster pedigree and, she feels, her darker skin. How do their lives intersect? Read and find out. You can thank me later.