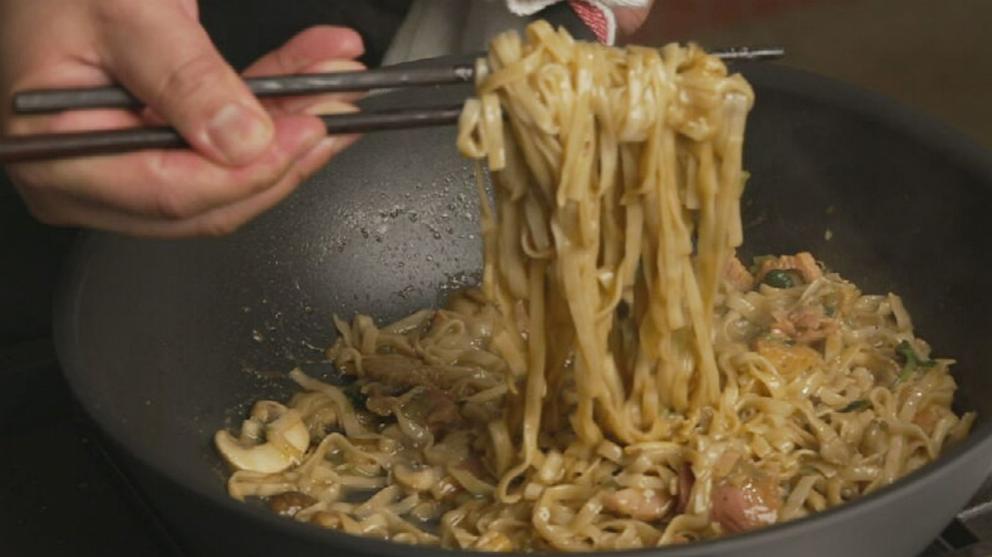 Thanksgiving is coming up, and if you need some inspiration for what to do with all that leftover turkey after the big day is done, we've got you covered.
Chef David Chang, founder of the Momofuku restaurant group, joins "GMA3" to share some delicious ways to turn your leftovers from drab to fab.
Turkey noodles, two ways
Ingredients:
1 cup leftover vegetables (whatever you have lying around is fine)
1 cup leftover turkey
1 tbsp. neutral oil
3 packs Momofuku Soy and Scallion Noodles
4 cups turkey broth (optional)
1 tsp. toasted sesame oil (optional)
1 tsp. soy sauce (optional)
Momofuku Chili Crunch (optional)
Directions:
Bring 6-8 cups of water to a boil in a saucepan. Meanwhile, raid the fridge for whatever leftover raw vegetables you have from Thanksgiving. Slice the vegetables thin, and if you're using scallions, save the greens for garnish.
Heat a wok or large skillet over medium-high heat. Coat with oil, then add your veggies. Season with salt and give them a toss. Add the turkey, and stir in one of the seasoning packets from your noodles. If you're not using Momofuku Soy and Scallion Noodles, then add a spoonful of soy sauce, a few drops of sesame oil and a little sugar.
While the vegetables and turkey cook, boil the noodles. Once cooked, strain and add to the pan, along with the remaining seasoning packets and dried scallions. Give it a toss, garnish with scallion greens if you have them, and serve. If you prefer noodle soup, follow the next step.
Heat the turkey broth in a saucepan and season to taste with sesame oil and soy sauce. Pour the broth over the noodles, and garnish with Momofuku Chili Crunch.
By clicking on these shopping links, visitors will leave Goodmorningamerica.com. These e-commerce sites are operated under different terms and privacy policies than Goodmorningamerica.com. ABC will receive a commission for purchases made through these links. Prices may change from the date of publication.
More 'GMA' kitchen picks