How to make a quick, cheesy 'Prawn Toast' for Thanksgiving
Bryan Gardner for The New York Times
As Thanksgiving fast approaches group chats across the country have likely been buzzing with notifications, recipe ideas, Ina Garten memes and the host's address for the fifth time all in the name of Friendsgiving.
The food- and drink-filled festivities amongst close friends are a great way to enjoy quality time ahead of the hustle and bustle of the holiday season around a full table of delicious dishes.
While every Friendsgiving feast looks beautifully different, there are a few universal tips and tricks to keep in mind when it comes to planning what foods to bring that can and should be prepped ahead of time, transport with ease and reheated upon arrival to ensure a hassle-free evening.
Top Friendsgiving tips
Pick a recipe that you can make at least a day or two in advance so that you're not stressed about timing on the day of. Think casseroles, stews, stuffing, mashed potatoes and roasted veggies, these are all great options to cook ahead and store in the fridge until the event.
Eric Kim, the New York Times Cooking resident Friendsgiving expert and writer, shared a sentiment he learned from his mother, "Don't cook when you're stressed."
"I strongly believe that when the cooking is less stressful, the food comes out better," he explained. "So to minimize the mental, physical and emotional strain ordinarily caused by Thanksgiving cookery, I always encourage people to make as much of the meal as they can the night before, and to focus on the turkey and heating already assembled casseroles and side dishes on Turkey Day."
He continued, "There are few things, especially in the pantheon of Thanksgiving foods, that need to be cooked à la minute. A cheesy casserole will be just fine the next day. You can assemble most things up to the moment the recipe says "Bake for 30 (or whatever) minutes." Make the dish up to that point, cover it with foil, and store in the refrigerator until the next day. Finish it in the oven while the roast turkey is out on the counter resting."
Talk to the host and plan ahead for what items will need the use of their stovetop or oven. If everyone else is bringing a dish that will need to go in the oven, maybe that's a cue to stick with a charcuterie board, salad or dessert.
Don't sleep on soups and stews. This is great for a group and can be simmered in a slow cooker or stovetop and served as a warm appetizer to kick off the meal while people are arriving, mingling and putting final touches on their dishes.
Use a cooking vessel that is easy to transport and can be served straight from the container. If you have something like a salad that needs to be tossed upon arriving, keep the dressing in a separate container.
Pack some Tupperware or large reusable zip top bags to take home leftovers.
Easy, make ahead and portable recipe ideas
Pumpkin ginger soup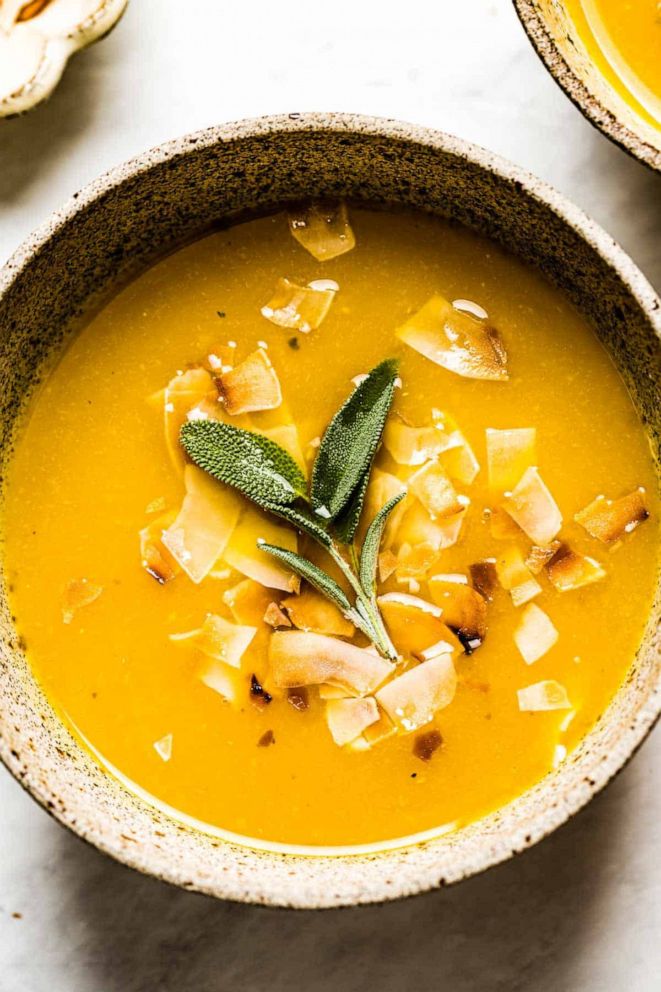 Foolproof Living blogger Aysegal Sanford told "GMA" this recipe can be made a day before you're ready to serve it. Once it's cooked, she suggests letting it cool to room temperature, then store it in the fridge in an airtight container.
"Heat it in a saucepan 30 minutes before serving. As it is with most creamy vegetable soup recipes, it gets thicker as it sits. If it is too thick, add in 1/4 to 1/2 cup water or stock to thin it out," she said. "Taste for seasoning and add in if necessary."
Cheesy Pizza Stuffing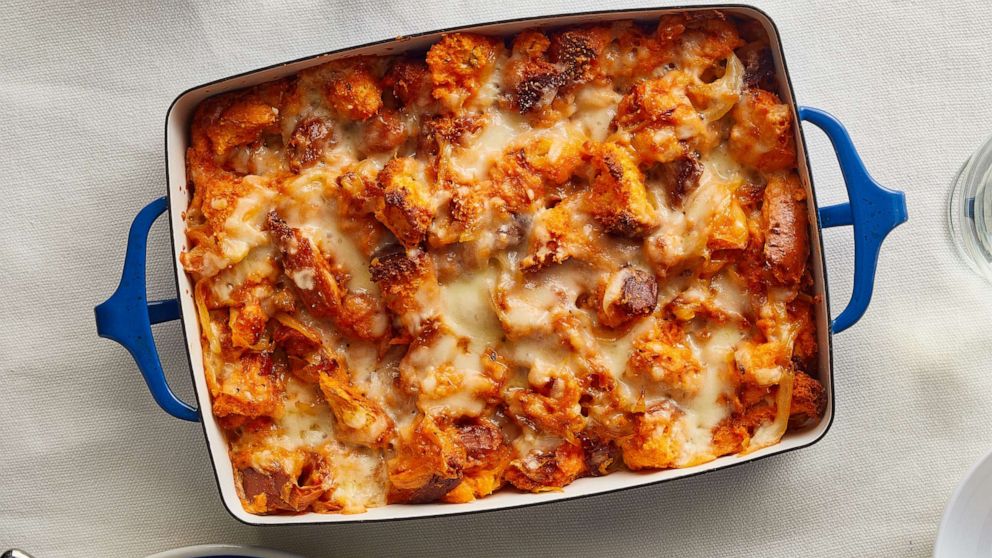 Kim shared the first of a few favorite make ahead recipes, including this tomato and cheesy riff on the standard side dish.
"You can also assemble the stuffing the night before Thanksgiving; just keep it covered in the refrigerator and bake it the next day while the turkey is resting," New York Times Cooking writer Eric Kim said about this recipe. "Serve this warm, while the cheese is still molten."
Yield: 4 to 6 servings
Time: 45 minutes, plus drying bread
Ingredients
1 (12- to 14-ounce) loaf brioche or challah, torn into bite-size pieces (about 4 cups)
4 tablespoons unsalted butter, plus more softened butter for greasing dish
1 large yellow onion, halved and thinly sliced
Salt and black pepper
1 teaspoon dried oregano, plus more for topping
2 tablespoons tomato paste
1 cup vegetable stock
1 large egg
1 cup whole milk
2 cups shredded low-moisture mozzarella
Directions
The night before serving, spread the bread pieces on a sheet pan and let sit on the counter to dry out. Alternatively, you can bake them at 250 degrees until completely dried out and no longer soft, 20 to 30 minutes.
When ready to make the stuffing, transfer the bread to a large bowl. Heat oven to 350 degrees and grease a 9-by-13-inch or 8-by-11-inch baking dish with softened butter.
Melt the 4 tablespoons butter in a large skillet over medium-high and add the onion. Season with salt and pepper, and cook, stirring occasionally, until translucent and slightly browned at the edges, 5 to 7 minutes. Stir in the oregano and tomato paste and cook until fragrant, about 1 minute. Add the stock and scrape up any browned bits from the bottom of the pan.
In a medium bowl, beat the egg with a fork, then beat in the milk. Pour the stock mixture and milk mixture over the bread and toss with two spoons until evenly coated. Add 1 cup mozzarella, and toss again until well combined. Let sit until the bread fully absorbs the liquid, about 5 minutes.
Transfer the stuffing and any accumulated liquid to the greased baking dish, spread out evenly and top with the remaining 1 cup mozzarella. (To make ahead, you can stop at this stage, cover the dish and refrigerate for up to 24 hours.)
Bake, uncovered, until heated through and the cheese is melted, 15 to 25 minutes. (You may need to add a few minutes to the bake time if the stuffing has been refrigerated.) Sprinkle a pinch of oregano over the top and serve immediately.
Recipe reprinted with permission courtesy of New York Times Cooking.
Garlicky mashed sweet potatoes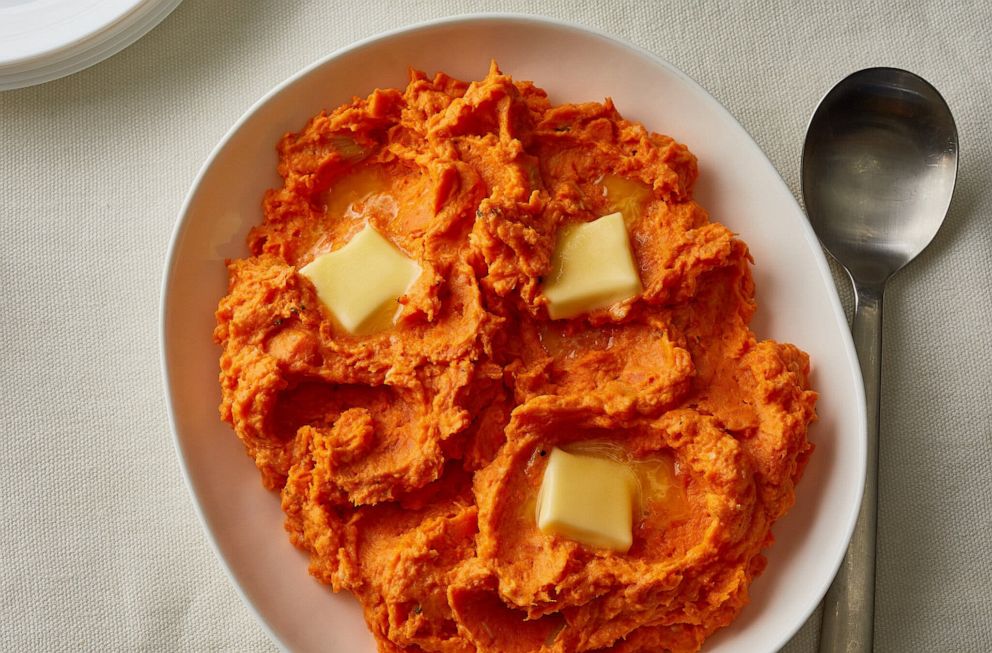 Kim's stance on sweet potatoes is simple: "There's no reason we can't treat sweet potatoes like regular potatoes, meaning mashing them with butter, cream and lots of salt."
"Roasting sweet potatoes in the oven -- individually wrapped in foil to help them steam -- is not just a hands-off way to cook them by avoiding large pots of boiling water, it also concentrates their flavor," he explained in the recipe here that also takes advantage of a hot oven to roast garlic at the same time. "Make this the night before and reheat it in a buttered casserole dish in the oven -- or even in the microwave -- with a couple of extra pats of butter on top, right before eating."
Green bean, artichoke and radicchio salad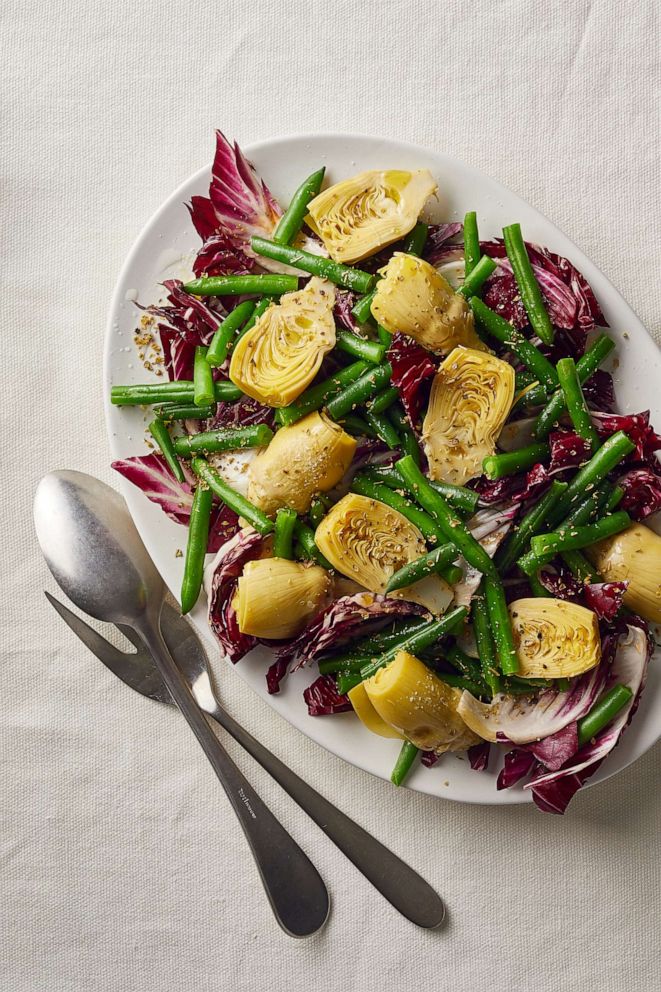 To keep the vegetable option bright and simple, Kim shared a cooked green beans salad with radicchio and canned artichokes. He combines the ingredients with "a generous glug of olive oil, a heavy hand with salt and pepper and an electric spritz of lemon."
Caramel apple pudding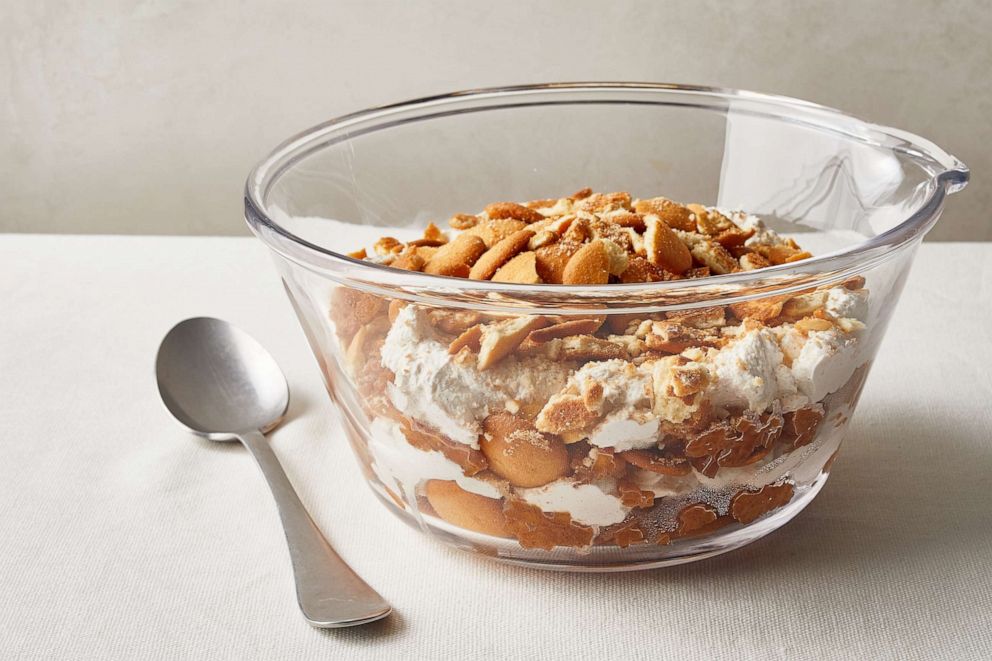 Think of a classic banana pudding but swap the sweet tropical fruit for warm fall flavors.
Kim's recipe that relies on time sitting in a fridge overnight for the layers to properly meld, is made with a light and fluffy salted cinnamon whipped cream, vanilla cookies and caramel-fried apples.