One-pan (or pot, or sheet tray) meals offer a no-fuss approach for home cooks.
New York Times food writer and recipe developer Melissa Clark has 100 new recipes in her latest cookbook that streamline steps and tools to get food on the table with ease.
Clark shared two recipes from "Dinner in One: Exceptional & Easy One-Pan Meals: A Cookbook," that are both big on flavor and take less than an hour to make.
The Easiest Rice and Beans with Quick Pickled Jalapeños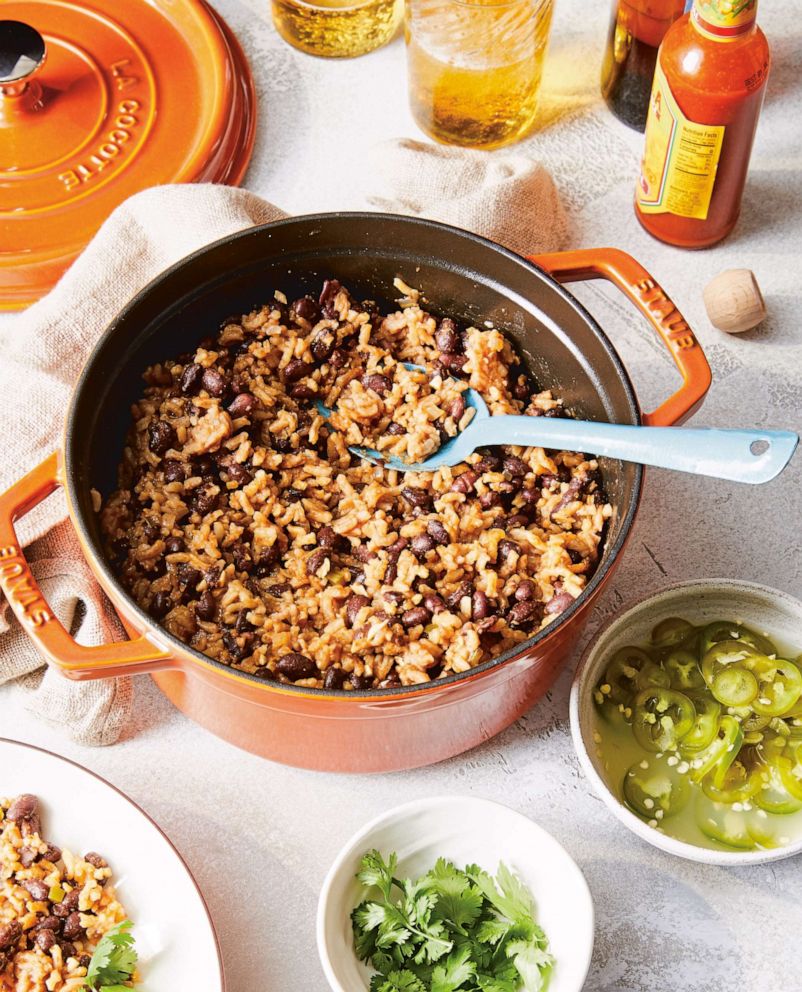 "Cooking rice and beans in the same pot makes for one of the easiest and most adaptable meals around. Here, it's perked up with homemade pickled jalapeños, which add heat and zip to the comforting, carbohydrate-y mix. You can use this basic recipe as a template, changing up the beans, the spices, and the cooking liquid (see Tips and Swaps). Just don't use brown rice, which needs more liquid and a much longer cooking time."
Serves 4 to 6
Ingredients
2 jalapeños, seeded if you like: 1 thinly sliced, 1 finely diced1 lime, halved
1 1/2 teaspoons kosher salt, plus more to taste
Large pinch of sugar (or use a drizzle of honey or agave syrup)
2 tablespoons extra-virgin olive oil
1 large red onion, chopped
1 small bunch fresh cilantro, leaves and tender stems separated and finely chopped
Freshly ground black pepper
4 garlic cloves, minced or finely grated
1 tablespoon tomato paste
2 teaspoons chili powder
1 teaspoon ground cumin (or coriander)
1 teaspoon dried oregano
2 cups vegetable stock or water
Two 15.5-ounce cans black beans, drained and rinsed
1 cup long-grain white rice
Hot sauce, for serving (optional)
Directions
Place the sliced jalapeño in a small bowl and squeeze in enough lime juice to cover it (save the diced jalapeño for later). Add a pinch each of salt and sugar. Let sit at room temperature while you make the rice. (The jalapeños can be prepared up to 5 days ahead of time and stored in the refrigerator; they get softer and more pickled as they sit.)
In a 5- or 6-quart Dutch oven with a tight-fitting lid, heat the oil over medium-high heat. Add the onion, the diced jalapeño, cilantro stems, and a pinch each of salt and pepper, and sauté until tender, 3 to 4 minutes. Stir in the garlic, tomato paste, chili powder, cumin, and oregano, and cook until fragrant, 1 to 2 minutes.
Add the stock or water and bring to a boil. Stir in the beans, rice, and 1½ teaspoons salt and cover the pot. Reduce the heat to low and simmer, undisturbed, for 16 to 18 minutes, until the rice is tender.
Remove the pot from the heat, wrap a clean kitchen towel around the pot cover, re-cover the pot, and let it sit for 5 minutes to absorb some of the steam. Fluff the rice mixture with a fork and stir in the chopped cilantro leaves. Taste and season with salt as needed.
To serve, top each bowl of rice and beans with the pickled jalapeños, plus a drizzle of their pickling liquid. If the jalapeño is very mild, add a dash of hot sauce, if you like.
Melissa's Tips and Swaps
Homemade pickled jalapenos adds a ton of flavor, and you can throw them together in under 5 minutes, and leftovers last for up to 5 days in the fridge.
Feel free to swap out other types of beans for the black beans. Kidney beans, pinto beans, white beans, all work perfectly.
To bump up the flavor, substitute 1/2 cup salsa for an equal amount of broth. Tangy salsa verde works really well here.
If you want to add meat, you can add 2 to 4 ounces diced bacon, chorizo or other sausages, or ground pork or turkey. Brown it in a little oil before adding the onion and jalapeños in Step 2.
Cheesy Baked Pasta with Tomato, Sausage and Ricotta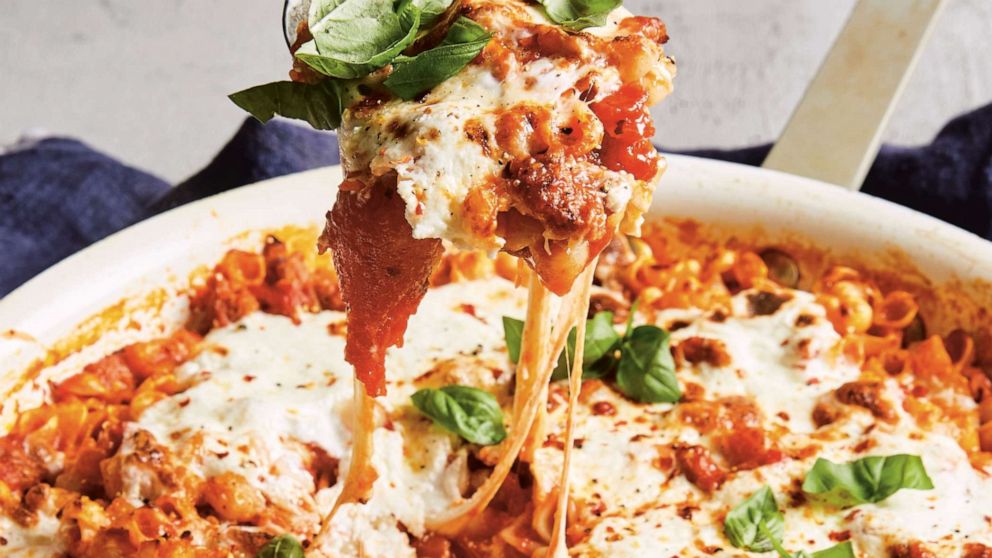 "Like a cross between baked ziti and a meaty lasagna, this golden-topped pasta is rich with brawny bits of sausage, creamy ricotta, and crushed tomatoes, all seasoned with plenty of garlic, oregano, and fennel seed. It's a certified crowd-pleaser that's easy to adapt."
Serves 4
Ingredients
3 tablespoons extra-virgin olive oil
12 ounces hot or mild Italian sausage (pork, chicken, or turkey)
1/2 teaspoon fennel seeds
4 garlic cloves, thinly sliced
1 teaspoon dried oregano
Pinch of crushed red pepper flakes (optional), plus more for serving
28-ounce can whole peeled tomatoes
14-ounce can crushed or strained tomatoes
2 bay leaves
2 teaspoons kosher salt
12 ounces pasta (small shells, farfalle, or other small shape)
8 ounces fresh mozzarella, torn into bite-size pieces
6 ounces (about 3/4 cup) whole-milk ricotta
1/3 cup grated Parmesan cheese
Freshly ground black pepper, for serving
1/4 cup slivered fresh basil
Directions
Heat the oven to 425 degrees.
In a 12-inch ovenproof skillet or Dutch oven, heat the oil over medium-high heat. Remove the casings from the sausage and crumble the meat into skillet, using a spoon to break it up. Cook, stirring, until it's starting to brown, 5 to 7 minutes.
Using a mortar and pestle or the flat side of a chef's knife and a cutting board, lightly crush the fennel seeds. Stir them into the pan along with the garlic, oregano, and red pepper flakes, if using, and cook another 1 to 2 minutes.
Stir in the whole tomatoes, using a spoon to break them up. Add the crushed tomatoes, bay leaves, and salt and bring to a simmer. Cook for 10 minutes to thicken it slightly.
Stir in the pasta and 1 cup water and return the sauce to a simmer. Cook for 2 minutes, stirring to make sure the pasta doesn't stick to the pan. Remove from the heat, remove the bay leaves, and fold in a third of the mozzarella.
Top the pasta with the remaining mozzarella and dollops of ricotta. Sprinkle with the Parmesan. Bake until the pasta is tender when poked with a fork, and the cheese is bubbly and golden, 18 to 22 minutes. (If you'd like a browner topping, run the pan under the broiler for 1 to 2 minutes.) Let cool slightly before serving with black pepper and basil on top, and more red pepper flakes on the side.
Melissa's Tips and Swaps
Cooking the dried pasta directly in the sauce is both easier and more flavorful.
You can leave out the sausage entirely, or substitute a plant-based sausage for a vegetarian dish.
You can add 8 ounces of sliced mushrooms in the first step of the recipe. Add them to the pan along with the sausage, and increase the cook time until the moisture evaporates from the pan, and everything is very browned (it might take an extra 5 to 7 minutes).
If you're not a fan of fennel, substitute 1/2 teaspoon dried basil or thyme for the fennel seed.
"Reprinted from Dinner In One. Copyright © 2022 by Melissa Clark. Photographs copyright © 2022 by Linda Xiao. Published by Clarkson Potter, an imprint of Random House."