Alexandra Hill and Rodrigo Fernandini cook up rice dishes
ABC News Photo Illustration
Hispanic culture in the culinary world boasts delicious depths of flavor, diverse ingredients and dishes from various regions, and yet there is one staple that transcends both borders and time -- rice.
The inexpensive, versatile grain is integral to thousands of recipes we know and love, so two great food minds joined "Good Morning America" for Hispanic Heritage Month to offer a taste of their heritage cuisines, using rice as the star for breakfast, lunch, dinner and dessert.
Chef Rodrigo Fernandini stunned the New York City dining scene over the past year with his restaurant Artesano, serving up gourmet iterations of Peruvian classics like ceviche, which he said is "made exactly how my grandma used to make it" growing up in Chiclayo, Peru.
"I'm very proud I have the opportunity to have the space to show our culture's gastronomy. I feel like I represent my country as an ambassador, so everything we do, we're conscious that it's an extension of us -- we feel super happy to serve it like our mom was," Fernandini told "GMA." "We like to tell a story behind every dish -- so you can have a piece of our heritage and our childhood in every bite you have."
Fernandini shared two of his favorite recipes below, one that feels a bit like seafood paella or risotto but is way easier to accomplish thanks to the use of leftover rice that soaks up a stunning bisque-like sauce filled with flavorful Peruvian peppers, and for dessert, he offered a treat he loves to cook in his own home, Latin-style rice pudding.
Afro Latina Los Angeles-based food blogger, recipe developer and content creator Alex Hill, host of the new Tastemade series Spice Spice Baby, added two more recipes that pay homage to her mom's Puerto Rican heritage. Check out her full recipes below for traditional arroz con pollo and a simple breakfast of rice, perfectly cooked sunny side up eggs and sweet plantains.
Peruvian Seafood Rice - Shrimp Rice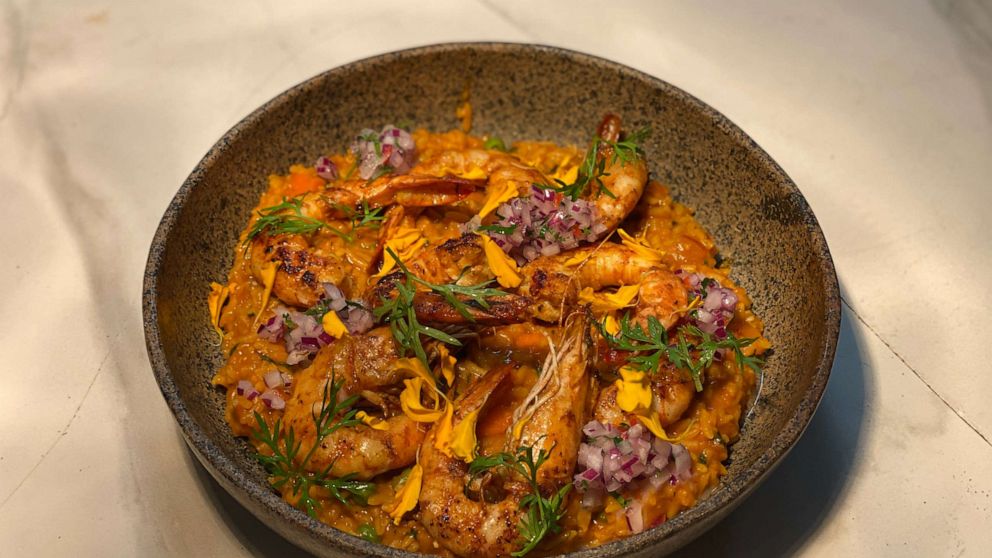 Serving size: 2
Ingredients
1 cup leftover rice
1/2 cup Peruvian bisque (recipe below)
1/3 cup beer
1/4 cup olive oil
1 tablespoon chopped garlic
1 tablespoon aji panca paste
1 tablespoon aji amarillo paste
2 tablespoons small diced red onion
1 tablespoon lime juice
1/2 teaspoon chopped cilantro
1 tablespoon diced bell pepper
2 tablespoons cooked sweet peas
1/3 cup chalaca sauce (recipe below)
1 cup shrimps (remove tail and divide, save tail for Peruvian bisque)
Salt (to taste)
Micro cilantro (for garnish)
Directions
In a pot, add oil with garlic and onion, and cook slowly on low heat for 30 seconds. Add the aji panca and aji amarillo paste. Cook for another 30 seconds and move often so it doesn't stick in the bottom. Add the leftover rice and mix well. After 30 seconds, add the beer and Peruvian bisque to the rice while cooking so the rice absorbs the liquid, along with sweet peas, bell pepper and cilantro. Add salt to taste. Reserve.
While that's cooking, in a separate pan, saute the shrimps for 3 minutes or fully cook. Add the rice on a plate, and the shrimp. Add the chalaca ingredients in a pot, lime juice and salt to taste, then add the chalaca in the rice with the shrimps and enjoy.
Peruvian bisque
Leftover shrimp shells
1/3 cup tomato, diced
1/3 cup carrot, diced
1/3 cup white onion, diced
1/3 cup celery, diced
4 teaspoons garlic cloves
2 tablespoons pisco (optional)
1 cup beer (or white wine)
2 tablespoons aji panca paste
2 tablespoons aji amarillo paste
1 tablespoon tomato paste
1/3 cup evaporated milk
1 1/2 cups water
Salt and black pepper to taste
Olive oil
Directions
In a pot, add the olive oil and roast the vegetables with the shrimp bones. Once they are golden brown, add tomato paste, aji panca and aji amarillo paste, and cook for 2 minutes. Add the pisco and beer, then add the fumet or water as well as the evaporated milk, salt and black pepper, and cook for 2-3 hours. Finally, blend all together, pass the bisque through a strainer and reserve.
Chalaca sauce
1/3 cup brunoise red onion
2 tablespoons chopped cilantro
2 tablespoons chopped habanero, small diced
4 tablespoons lime juice
Salt to taste
Directions
Combine all the ingredients in the bowl and reserve.
Latin-style Rice Pudding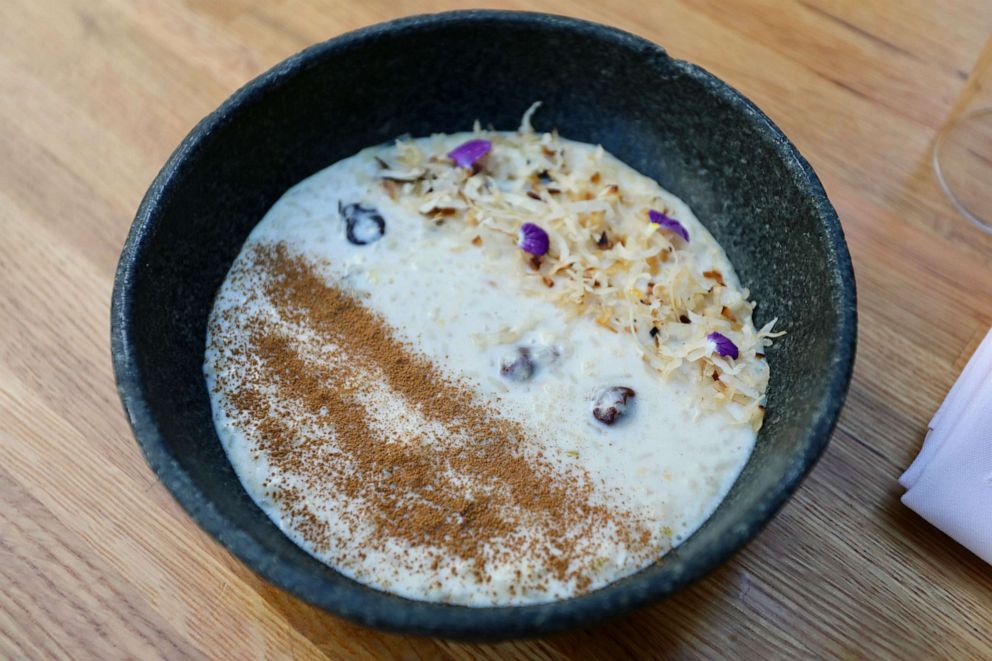 Ingredients
1 cup long rice
1 1/2 cups water
2 cups coconut milk
3/4 cup sugar
2 tablespoons orange zest
2 tablespoons vanilla extract
1 star anise
5 cloves
2 canela sticks
1/4 cup raisins
Directions
In a pot, add the spices and toast for 2 minutes over high heat. After that, add the rice (previously washed), then add the orange zest and water, and cook with a lid for 15 minutes on low heat. Next, add the sugar, coconut milk and raisins. Serve.
Chef tips for home cooks
Swap out the aji amarillo and aji panca in the seafood rice for 1 spoonful tomato paste to give a nice flavor and color.
The more you cook the rice after adding the bisque, the more it absorbs. You can add a little water to the bisque for a risotto consistency.
In the bisque, adding shrimp shells adds a lot of flavor. When you cook them over heat, it will enhance the flavors of the shrimp.
For the rice pudding, Fernandini said the traditional recipe would use condensed milk and evaporated milk. Instead, he likes using coconut milk and sugar to make it lighter and still delicious. It's also very important to wash the rice before cooking and not to add the milk and sugar until its fully cooked.
Evelyn's Arroz Con Pollo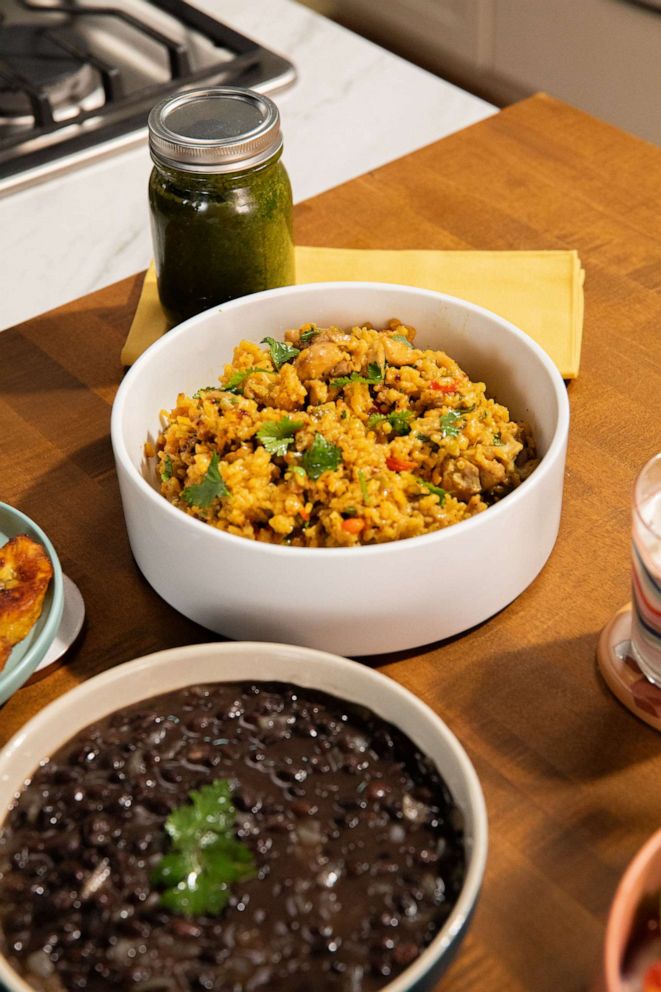 Prep time: 24 hours
Cook time: 25 minutes
Servings: 4
Ingredients
1 pound boneless skinless chicken thighs
1/2 red pepper, chopped
1/2 green pepper, chopped
1/2 yellow onion, chopped
2 garlic cloves, finely minced
1 cup parboiled extra-long grain rice, rinsed
2 cups chicken broth
2 bay leaves
1 packet Goya Saźon Achiote seasoning
1/4 cup sofrito (divided)
Kosher salt and fresh-cracked black pepper to taste
1 tablespoon extra-virgin olive oil
Cilantro for garnish
Seasonings for the chicken (adobo seasonings): 1 teaspoon garlic powder, 1 teaspoon onion powder, 1 teaspoon diamond kosher salt, 1/2 teaspoon black pepper, and 2 tablespoons premade sofrito
Directions
In a bowl, season chicken with adobo seasonings (salt, pepper, onion and garlic powder) and sofrito.
In a Dutch oven over medium high heat, add EVOO and let it get hot. Add the chicken thighs to the Dutch oven and sear, about 2 minutes (we are not fully cooking them through). Remove and set aside on a plate.
Turn down heat to medium. Add sofrito, onion and peppers to the pot, and saute until the onions are translucent, about 2 minutes. Season with a little bit of kosher salt. Add garlic and saute for 60 seconds.
Add 1 cup of rice and stir to combine. Add the Saźon packet and stir to combine.
Add 2 cups chicken broth, stir to combine and add the chicken thighs back into the pot.
Let it come to a boil (taste a little bit of the broth to see if it needs more salt) then reduce to low, cover the pot and allow to cook for 25 minutes.
Garnish with chopped cilantro.
Arroz Con Pollo tips
Allow chicken to marinate overnight for best flavor!
My mom's rule for perfect rice is for every 1 cup of rice, you use 2 cups of cooking liquid (water or stock).
Always rinse your rice, it results in fluffy rice (because you're removing the top layer of starch which can make your rice sticky).
Use chicken thighs, they are a more forgiving cut of chicken, so even if you feel like you overcooked it, they will still be tender and juicy!
Never open the pot when making arroz con pollo, you don't want that steam to escape. It interrupts the cooking process!
Using sofrito is key, it's a staple in any Puerto Rican household. Sofrito is a flavor base of aromatics used to enhance flavor in a dish.
Always use your caldero pot, or "the silver pot," to make arroz con pollo! It's iconic and every Hispanic and Caribbean household knows how special this pot is -- it's similar to a Dutch oven pot.
Sazon is also a non-negotiable for arroz con pollo. In addition to sofrito, sazon provides lots of flavor through spices and the iconic yellow/orange-ish color!
Traditional Puerto Rican breakfast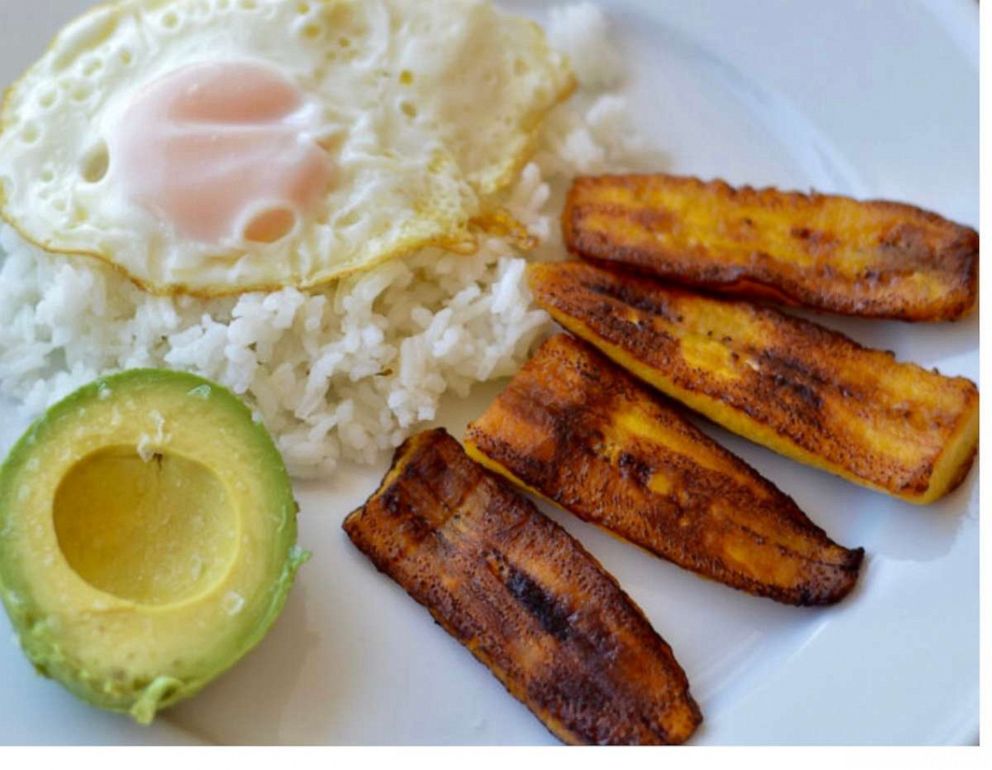 Hill said "for breakfast we normally do white rice with two sunny side-up eggs and sweet plantains."