Parents navigate challenges and costs of child care
Like the majority of parents of young kids in the United States, Taylor and Erik Isenhour rely on day care for their two children.
In July, the Isenhours, who live in Iowa, said they were recently left scrambling for child care for their two kids, ages 4 and 2, when they found out their day care was abruptly closing.
"We were notified on a Tuesday that Friday would be our last day," Taylor Isenhour told "Good Morning America." "Really, the abruptness of how quickly these places can get shut down for various reasons has been the biggest struggle with child care."
The day care center the Isenhours' children attended relied partially on child care assistance from the state of Iowa, but that wasn't enough to keep the center open, according to Isenhour.
Liz Retikis, director of the EASY Early Learning Center, which the Isenhours' children attended before it closed, told Iowa ABC affiliate KCRG that 35 out of 52 kids at the facility were on Child Care Assistance from the state, and that didn't provide the day care the full amount of funds it needed to keep its doors open.
The facility's closure marked the Isenhour family's third day care in two years, they said.
"It's a really scary feeling," Taylor Isenhour said of the lack of child care options. "And then you have to scramble for care and hope that whoever you find is a reliable and trustworthy person to care for your kids."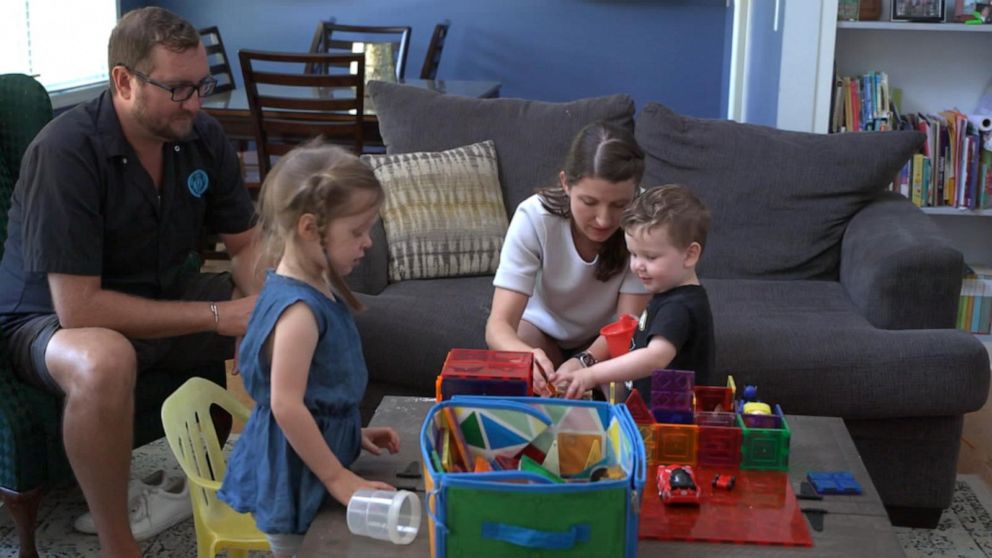 Across the country, a renewed child care crisis is emerging: The majority of the $50 billion in relief funding that child care programs received from the federal government post-pandemic is set to expire in September.
That loss of funding brings with it the potential for many American families to lose access to child care, according to Susan Gale Perry, CEO of Child Care Aware of America, a nonprofit organization focused on making child care more affordable for all.
"Child care businesses are going to be put in a position of having to either raise fees on parents or lower the wages of their child care teachers," Perry told "GMA," saying that the latter option "will likely lead to more teachers leaving the field."
Already, the cost of child care is on the rise, with the average cost per child now almost $11,000 per year. That is an increase of more than 14% over the last five years, according to data shared by Child Care Aware of America.
"Child care is a really labor intensive business, and so in this country right now, child care businesses are relying almost entirely on parent fees to cover those high costs," Perry said. "And in many places around the country, parents are paying more than their mortgage or rent for child care for an infant."
With federal aid set to expire soon, states are pushing for renewed focus on child care themselves, with at least 22 governors from both parties mentioning the importance of child care, pre-K and/or early care and education in their 2023 State of the State addresses.
Many state legislatures are also passing their own legislation to support child care centers. Last year, Alabama approved a $40 million investment in pre-K and child care, while New Mexico expanded a program that waives the cost of child care, an initiative that could make child care free for many families in the state.
Also last year, the state of Nevada announced a $50 million investment to make child care more affordable for families, and in May this year, New York Gov. Kathy Hochul announced a $500 million investment to bolster New York's child care workforce.
Perry said that states' actions to make child care more affordable is as much pro-business as it is pro-family.
"When families don't have reliable child care, they're they're more likely to be absent from work. They're less likely to be focused and as productive," she said. "So, it is really beneficial for families to have high-quality child care, but it's equally beneficial for for businesses."
On the national level, the Biden administration announced a series of child care proposals last month that the administration said would benefit nearly 80,000 families. The proposals include capping child care copays at no more than 7% of a family's income as well as paying child care providers earlier and based on their enrollment.
The proposals were timely: That same month, in July, the national average price of day care and preschool services rose 6% from a year before, nearly double the inflation rate of 3.2%, according to the Bureau of Labor Statistics.
Taylor Isenhour said she had to rely on her kids' grandparents to provide child care while she and her husband both worked and searched for another day care center, which they were ultimately able to find.
"I've gone through sleepless nights worrying about where I'm going to be able to send my kids," she said. "So, while I feel really lucky, I know that there's dozens of other families that were not able to find care."