When "Good Morning America" co-anchor Robin Roberts wed longtime partner Amber Laign on Friday, dozens of members of her "GMA" family were there to celebrate their love.
Roberts' fellow "GMA" co-anchors Michael Strahan and George Stephanopoulos joined Ginger Zee, Lara Spencer, David Muir, Eva Pilgrim, DeMarco Morgan, Dr. Jennifer Ashton, Whit Johnson, Janai Norman, Gio Benitez and more at the newlyweds' enchanted garden-themed wedding reception.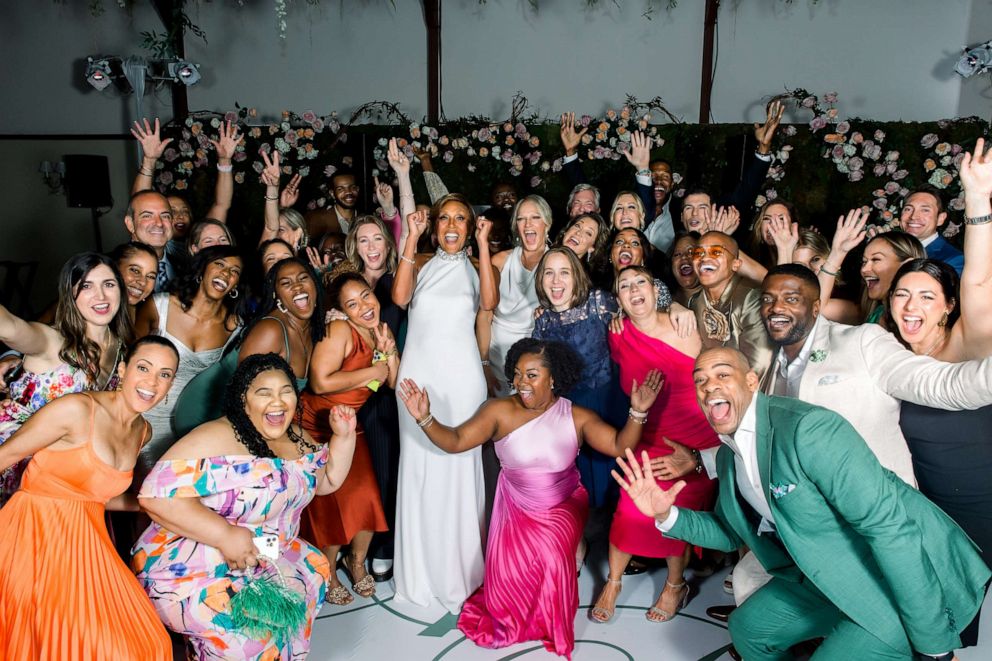 The reception included plenty of celebrating and dancing, including a surprise dance Roberts and her "GMA" team performed for Laign.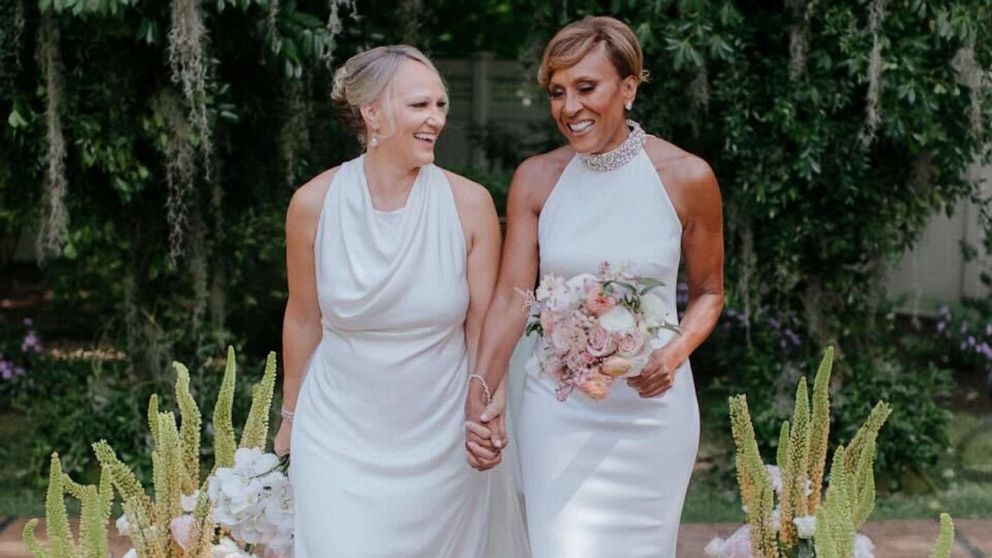 Take a look below at some of the best behind-the-scenes moments shared by members of the "GMA" and ABC News family.
Robin Roberts shares Whit Johnson's "epic" dance-off
The bride shared a must-see video of her nephew in a dance-off with Johnson, co-anchor of the "GMA" weekend editions and anchor of the Saturday edition of "World News Tonight."
Robin Roberts surprises wife with dance routine alongside her 'GMA' team
Roberts surprised Laign at the reception with a choreographed group dance alongside her makeup artist, hair stylist and other members of her "GMA" team.
Gio Benitez shares Whit Johnson's dance moves
"GMA" weekend co-anchor Benitez shared a video showing Roberts giving a play-by-play of Johnson in a dance-off with Benitez's husband Tommy DiDario.
Ali Wentworth says she and George Stephanopoulos celebrated "beautiful wedding of two incredible women"
Ali Wentworth shared a photo of her and husband Stephanopoulos alongside Spencer, saying, "It was an honor to witness such a love filled union. And we DANCED."
Ginger Zee says attendees witnessed "gorgeous love and joy"
Zee, ABC News' chief meteorologist, shared behind-the-scenes shots, noting that "everyone was on the dance floor from the first beat."
Erielle Reshef shares photos of a "MAGICAL night"
ABC News correspondent Erielle Reshef captured Roberts and Laign sharing a dance together, as well as behind-the-scenes photos with "GMA" co-anchor Strahan and more.
Lara Spencer says guests "danced and danced and danced again"
Spencer shared photos with Stephanopoulos, WABC-TV meteorologist Sam Champion and more as they celebrated together.
Dr. Jennifer Ashton shares photos of "stunningly beautiful brides"
"GMA3" co-anchor Ashton was there with her fellow "GMA3" co-anchors Pilgrim and Morgan to celebrate Roberts' and Laign's love for one another.
Rebecca Jarvis wishes couple a "lifetime of endless love"
ABC News chief business correspondent Rebecca Jarvis shared photos of behind-the-scenes moments, including Roberts' three siblings giving their wedding toast.
Linsey Davis shares photo with the bride
ABC News Live Prime anchor Linsey Davis shared a photo with Roberts, as well as more members of the ABC News family.
Sam Champion says he "cried like a baby"
Champion, who served as the wedding's "master of ceremonies," shared photos of the brides on the dance floor, describing the night as "magical love celebrated beneath the stars."