WGA ends strike after 148 days
Kevin Winter/Getty Images
Late-night talk show hosts are returning to their shows following the official end of the Writers Guild of America strike earlier this week.
The WGA approved a tentative agreement with the studios on Tuesday, ending a nearly 150-day strike. Jimmy Kimmel, Jimmy Fallon, Seth Meyers, John Oliver and Stephen Colbert, also the hosts of the "Strike Force Five" podcast, announced that they will return to their respective network television shows in the wake of that tentative agreement.
"Flash! Their mission complete, the founding members of Strike Force 5 will return to their network television shows this Monday 10/2, and one of them to premium cable on 10/1," the hosts wrote in statement shared on the official "Strike Force Five" Instagram page Wednesday.
"This is the Strike Force 5 signing off and the Late Night 5 signing back on," the statement continued.
The five hosts launched the "Strike Force Five" podcast in August to support the out-of-work writing staff from their respective shows, which include "The Late Show With Stephen Colbert," "The Tonight Show Starring Jimmy Fallon," "Jimmy Kimmel Live," "Late Night With Seth Meyers," and "Last Week Tonight with John Oliver."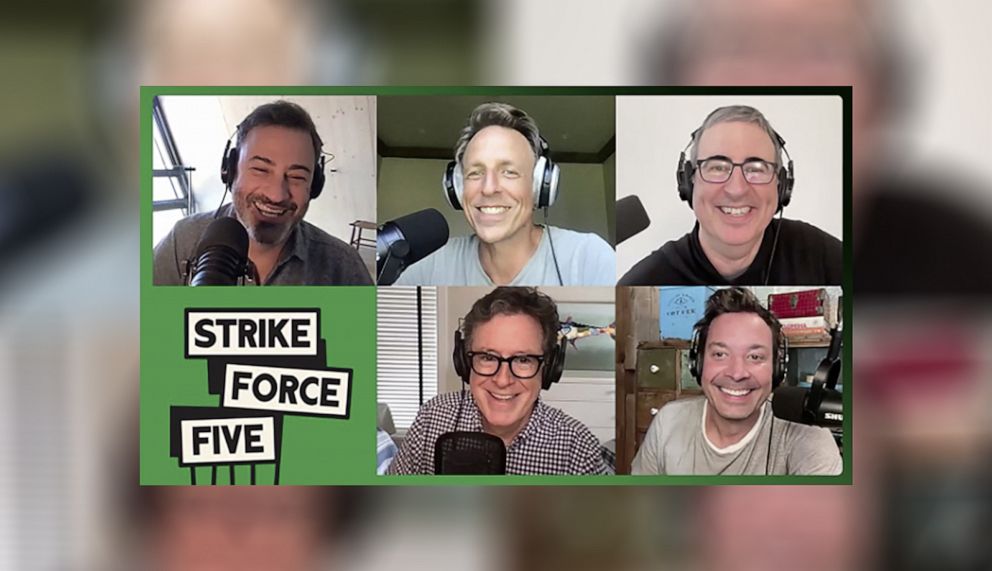 While the hosts will return to their shows, they noted that "Strike Force Five" as a group "will never end."
"Strike Force 5 is not a place, Strike Force 5 is not a people, Strike Force 5 is barely a podcast… Nay, Strike Force Five is an idea. An idea that five men could talk on top of each other for 12 episodes, and maybe somebody would listen," the group said in their statement.
"As we say goodbye, we would like to thank all those somebodies," the group continued. "Truly, you were the heroes. We were mostly the heroes, but you were in there, too."
The hosts also thanked their supporters and issued an apology for Conan O'Brien, "who agreed to do the pod, but Stephen forgot to send him any possible dates, and then the strike ended."
They concluded by saying, "Goodbye for now, and hello for later, because we still have a few more episodes, unless Ryan Reynolds cuts off the cash."
Reynolds was a supporter of the podcast endeavor: Both Aviation American Gin and Mint Mobile, in which Reynolds holds ownership stakes, acted as sponsors.
As ABC News reported previously, the WGA strike was less than a week away from surpassing the longest strike in Writers Guild History, which occurred in 1988 and lasted 154 days.
In July, the Screen Actors Guild-American Federation of Television and Radio Artists, or SAG-AFTRA, also began striking, following a dispute over compensation in light of an industry-wide shift toward streaming that has changed the way performers receive residuals or royalty payments.