Our favorite Jason Momoa moments for his birthday
A new trailer for "Aquaman and the Lost Kingdom" has just splashed down.
The trailer opens up with a tender moment: Jason Momoa's comic hero Arthur Curry talking to his infant son.
The baby is a chip off the old block, using his aquatic telepathy to talk "to the fishies" in a tank.
"You and me, son," Momoa's character tells his son. "We're special: We're connected to the land and the sea ... I can't wait to show you all the awesome this world can be."
However, the peace is interrupted by Black Manta (Yahya Abdul-Mateen II), who is back from the first movie with revenge on his mind.
"I'm gonna kill Aquaman, even if I have to make a deal with the devil to do it," he says.
At the center of that deal is the mythic Black Trident and Manta's oath to end Aquaman's bloodline. That puts his whole family at risk -- baby included -- meaning Aquaman must forge an unlikely alliance with his brother baddie Orm, the former king of Atlantis.
The trailer also shows returning players Nicole Kidman as Aquaman and Orm's mother Atlanna, and Arthur's human dad Tom, played by "Book of Boba Fett" veteran Temuera Morrison.
There's also over-the-top underwater battles, similar to those with which director James Wan broke new ground in the original film.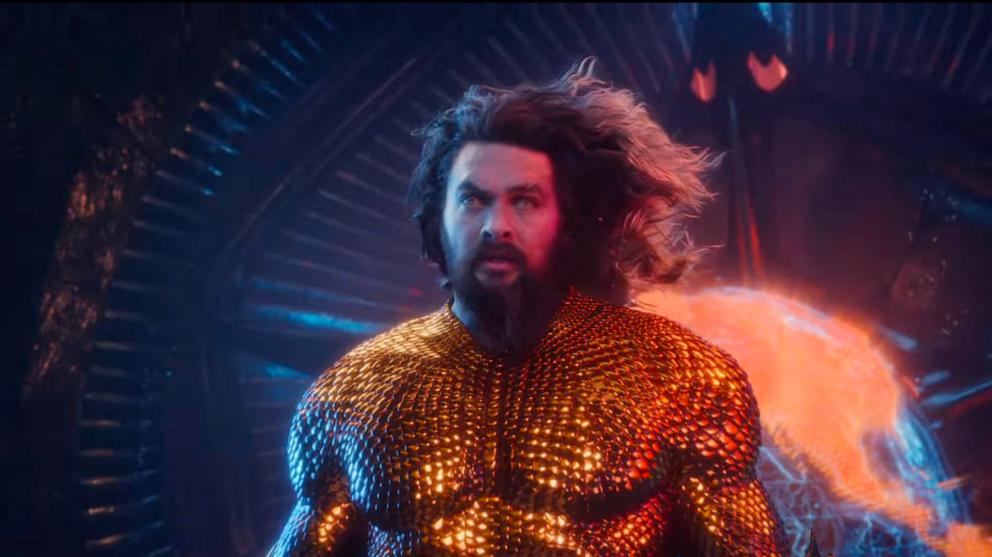 Waner Bros.' synopsis reads, "After failing to defeat Aquaman the first time, Black Manta wields the power of the mythic Black Trident to unleash an ancient and malevolent force."
Hoping to end his reign of terror, Aquaman and Orm "join forces to protect their kingdom and save the world from irreversible destruction."
"Aquaman and the Lost Kingdom" will now be released on Dec. 22, 2023.