'GMA' catches up with Garth Brooks
Danielle Del Valle/Getty Images, FILE
Garth Brooks' latest album, "Time Traveler," is a reflection of his love for country music.
"I love country music," Brooks told "Good Morning America" co-anchor Robin Roberts. "And this sincerity weaves through all the decades of country music, but at the same time, just got some traditional sounds in there and some modern sounds ... I really liked it."
"It's real life but to music, right?" he added. "In Oklahoma, we call it the news at six or 10 o'clock -- it's something you live."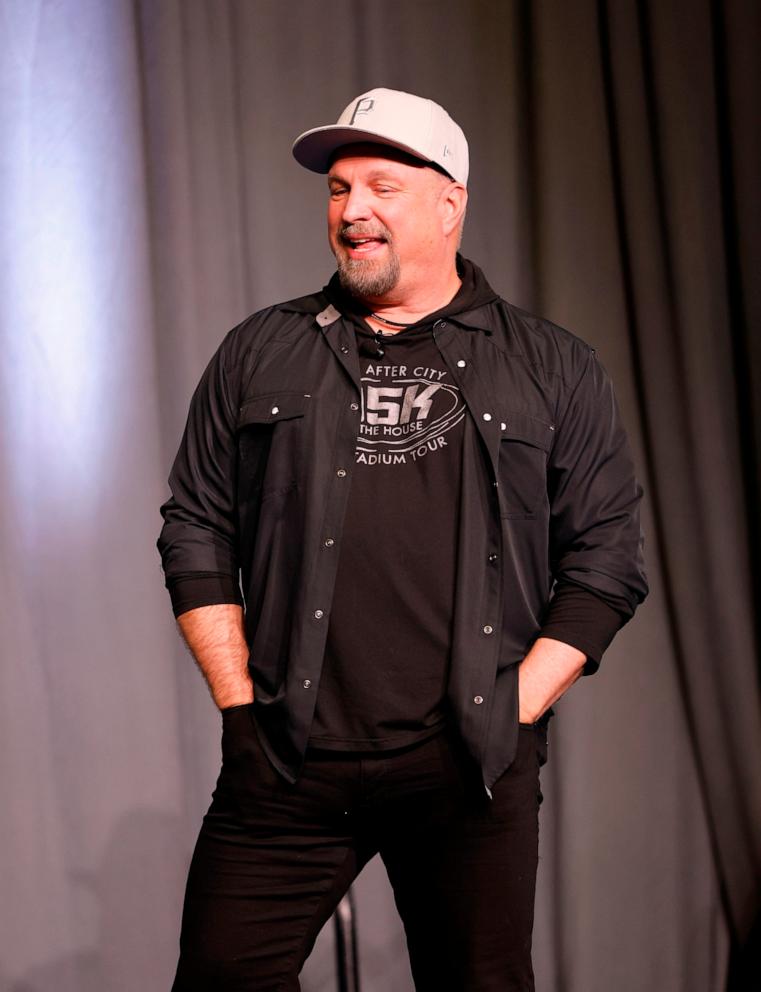 The Grammy Award winner, known for songs like "The Dance" and "We Shall Be Free," released "Time Traveler" earlier this month. It will be included in "The Limited Series," his final boxset consisting of his last three albums and a three-disc triple live.
Brooks said his hope with the new album is simple: "Let's live together to love one another," he said. "The only way we're getting to where we're going is together. If not, it stops right here."
Friends in Low Places bar and Thanksgiving plans
Brooks is showing no signs of slowing down. In addition to releasing "Time Traveler," he's returning to Las Vegas on Nov. 29 for the show "Garth Brooks/Plus ONE" and he has relaunched "The Garth Channel" on his SEVENS Radio Network, which is available to stream for free on TuneIn.
Additionally, his bar, Friends in Low Places Bar & Honky Tonk, which is named after his hit 1990 song, is slated to open this week in Nashville, Tennessee.
Last month, the singer announced that a concert would be held on Black Friday, Nov. 24, to toast the opening of the bar. It will be the first time that patrons will get to experience it.
"We're part of a neon neighborhood down there," Brooks said about the location of the bar. "Everybody's kind of got their thing. It's the most explosive place on the planet right now, if you love chaos and high volume -- and I love being right in the middle of it."
Brooks said his wife of 18 years, Trisha Yearwood, has been instrumental in getting the bar off the ground.
"She's back painting and sawing right now," Brooks said, calling Yearwood his "best friend."
Despite the bustle of getting the bar up and running, Brooks said that Yearwood is still planning to find time for Thanksgiving.
"She'll find some way to do her phenomenal Thanksgiving," Brooks said, adding that afterward, Yearwood "does that casserole where she takes everything in layers that's leftover, and then puts a biscuit on top of it, sticks it in the oven and that biscuit rises."
"Oh, it's the most fabulous thing on the planet," he said.